Our beloved hospitality industry is taking quite the hit during lockdown, and obviously we're all gutted we can't go and support them… Except wait, we can! Here are a few ways you can get your cocktail fix without even leaving your home. 
We know that nothing will quite beat the ambiance of our favourite watering hole, glancing over at the bar and seeing your drink being shaken (or stirred) by a bonafide professional. But, at the same time, enjoying a bar-quality cocktail in the comfort of your own home brings quite a bit of solace and downright enjoyment in times like these. If you can't go to the bar, bring the bar to you! Plus, now you won't have to queue or anything… 

Speakeasy At Home
It's triple trouble with Speakeasy At Home, as three of the World's 50 Best bars have joined forces for this one! You'll find cocktails from Swift, Nightjar and Oriole all in one place, which is pretty awesome. Will you choose Swift's famed Irish Coffee, Nightjar's Barrel Aged Zombie or Oriole's Jalisco Negroni? If you simply can't pick which bar you feel like visiting (through the wonder of taste, of course), you can get yourself a box featuring one cocktail from each. Handy! Cocktails come in 220ml pouches and 500ml bottles, starting at £15 and delivering throughout the UK. 

Milroy's The Proofing Room
The ever-wonderful Milroy's treated us to a new Spitalfields-based site this year, and underneath you'll find The Proofing Room, its basement cocktail bar. Now it's bringing the cocktails to us, and they're all inspired by the humble Highball. The six-serve menu treats us to a whole host of different variations on the classic cocktail, from bourbon, chestnut, peach and ginger to Tequila, coconut rum, chill, caraway and orange. What's more, there's delivery across the UK within 48 hours! So you won't be thirsty for long. Each bottle costs between £12 to £14 and holds three servings. ‌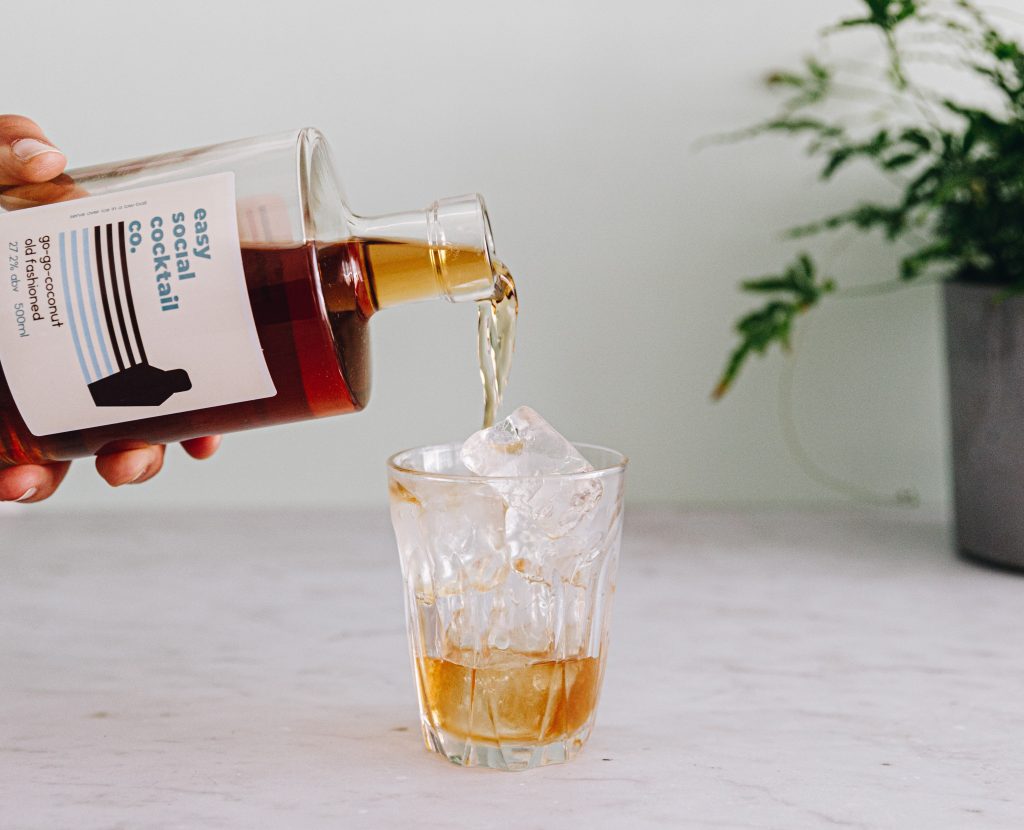 Easy Social Cocktail Co.
Bartender and Master of Malt contributor Nate Brown, had big plans for 2020 including a Highball Bar called Soda, a pizza and cocktail venue named Nebula and had an idea that at-home cocktails might be a thing. Well, for various reasons, not all of them Covid-related, Soda didn't open, Nebula is open and doing takeaways, and a cocktails delivery service seems like a really good idea. So Brown has teamed up with Imie Augier, formerly of Fitz's Bar and Shrub and Shutter, and Hebe Richardson of Drinks with Hebe fame (and also Brown's wife), to launch the Easy Social Cocktail Co (photo credit above: Milly Fletcher). The menu includes classic cocktails in bottles or pouches as well as Hard Seltzers. We were given a little taste of some of the deliciousness on offer including a Cracking Christmas Cosmo and a Super Strawberry Negroni which might be the best Negroni we've ever tried (both £25 for 500ml). 

Coupette
Coupette is bringing its delicious cocktails to the masses, because it's delivering its drinks worldwide! Get your all-important Calvados fix or give the Parmigiano- and bourbon-inspired Ain't Easy Being Cheesy a go. Heartbreakingly, Champagne Piña Coladas don't do well in transit. Sad faces all around. Though we're sure we'll cope, because there are heaps of other options from its outstanding menu to choose from. If you dim the lights, get some music on and cook yourself some gratin dauphinoise, it'll be like you never left the East London bar! Cocktails come in three sizes, 125ml, 250ml and 500ml, starting at £10. 

Hacha
Agave lovers, we didn't forget about you! London's Hacha is here to get us our fix, having bottled its famed Mirror Margarita. Each 700ml bottle holds four serves, and you'll find Tequila or mezcal versions of the cocktail along with seasonal infusions like clementine and cinnamon, or even a mulled variant! The bar has even reworked the classics, with pre-bottled agave twists on Negronis and Martinis too. A top feature of the bar was its ever-changing spirit selection, complete with bespoke weird and wacky food pairings (mezcal and Monster Munch, anyone?). With Hacha's agave tasting flights, you can recreate this at home! The flights are designed for two people, holding two serves of three different spirits, along with full tasting notes and even pairing suggestions. If you weren't an agave aficionado already, you will be soon! Bottles start from £35, delivering all over the UK.

Liana Cocktail Co. 
Liana Cocktail Co. is the tasty result of a bad situation (which was lockdown, in case you hadn't guessed). It goes one step further than just sending you a delicious cocktail, because each serve has one of those fancy QR codes. Say hello to the Interactive Cocktail Experience! From an Apple Old Fashioned to Margaritas, every cocktail has a corresponding video featuring a bartender talking you through how the drink was created. Each box is £19.99 (while £1 from every box will be donated by Liana Cocktail Co. to The Drinks Trust) and holds three cocktails, with delivery across the UK mainland.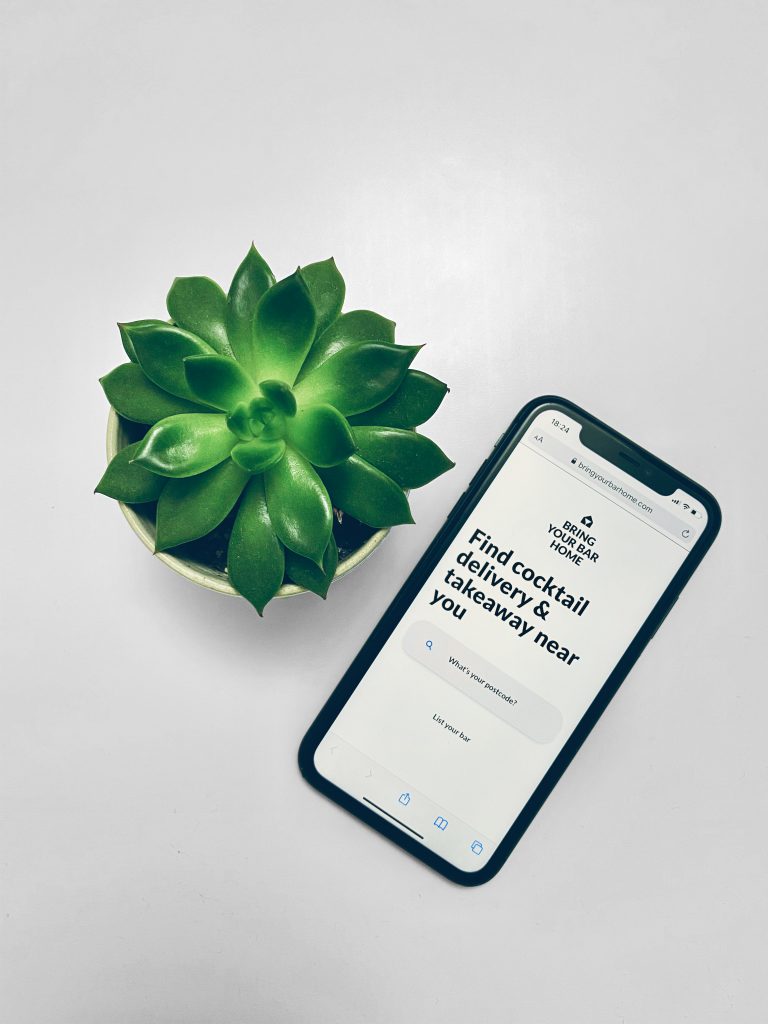 Bring Your Bar Home
And last but not least, a very shiny new feat of technology from a fellow bar-lover – say hello to Bring Your Bar Home! As much as we hate to admit it, it's basically a better version of what we've just done with this blog, because instead of rounding up a few favourites for you (brilliant though they are), you simply whack in your postcode (only works in the UK) and shows you a long ol' list of bars which can deliver straight to your doorstep. Genius! Just the sort of thing we wish we'd come up with ourselves…