Is there a more festive way to toast New Year's Eve than with a Punch that lists Douglas Fir needles among its ingredients? Banks Rum has partnered with three acclaimed cocktail experts for their take on the historic serve….
Punch has enjoyed somewhat of a revival as of late. Made with five key ingredients – alcohol, spice, sugar, citrus and water – and served in a sharing bowl, it's the ultimate social serve. Since it needs to be pre-prepared, there's no need to play bartender all night. Plus it's relatively simple to put together, and it makes for a pretty slick centrepiece. Lots of oohs and aahs, if you're into all that.
So, you've decided Punch is the way forward this New Year's Eve. How to pick a recipe? No-one wants to shell out on the ingredients for an entire bowl of Punch and end up with a watery bowl of regret. You need a source you can rely on. Thankfully, the folk at Banks Rum have recognised this, and they've recruited some of the best in the bar biz to concoct three serves (one super-easy, one a little more difficult, and a technical one for the drinks whizzes among us) to wow your guests with.
To create a showstopping Punch, you'll need a few things: firstly, a whopping great chunk of ice. You can make this by using a large silicone bread or cake mould, which are pretty widely available – just fill it with water and freeze it the day before. You'll also need a Punch bowl and ladle; the chunky silver vintage bowls (you know the ones!) look incredible, and the silver will help keep your Punch cooler for longer, but the glass ones are equally as effective. Finally, the ingredients. We'll get on to that now…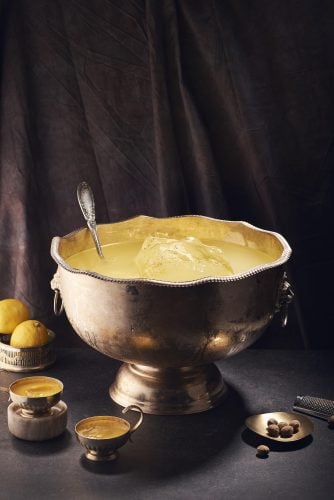 Elemental Punch
Punch of Christmas Past: Elemental Punch
Level: Novice | Prep: 24 hours | Serves: 10 drinks
Created by: Cocktail historian David Wondrich
Ingredients: 1 litre water, 700ml Banks 5 Island Blend or Banks 7 Golden Blend Rum, 180g sugar, 4 lemons, 1 nutmeg
Method: Peel 4 lemons in long spirals and put the peels in a sealable 500ml jar. Add 180g of white sugar. Seal, shake and leave to sit unrefrigerated overnight. One hour before you need the Punch, open the jar with the peels and lemon oil and add 180ml freshly-squeezed strained lemon juice. Close the jar, shake well until sugar has dissolved, and refrigerate. When you're just about ready to serve the Punch, add the contents of your jar, peels and all. Add 700ml of Banks 5 Island Blend or Banks 7 Golden Blend rum and 1 litre of cold still water and stir. Garnish by finely grating a quarter of a whole nutmeg across the top of the ice cube. To serve, ladle 90ml portions into Punch cups filled with ice.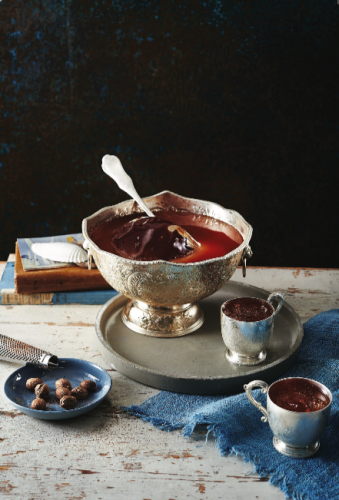 Swedish Punch
Punch of Christmas Present: Swedish Punch
Level: Intermediate | Prep: 1 hour | Serves: 10 drinks
Created by: Jim Meehan, owner of New York bar PDT
Ingredients: 1 litre Banks 7 Golden Blend Rum, 750ml English Breakfast tea, 300ml lemon juice, 250g Demerara sugar, 1 tsp orange bitters
Method: Brew the tea, then stir in the sugar until it dissolves. Add 4 cups of ice to chill and dilute the mixture, then add bitters, lemon juice and rum. Chill the mixture. When ready to serve, add the liquid to a Punch bowl filled with one large block of ice. Use a ladle to pour into Punch cups filled with ice and garnish with grated nutmeg.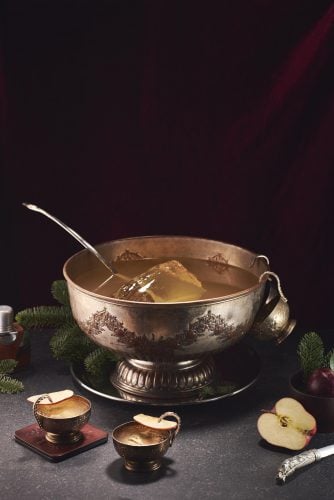 Pine-apple Punch
Punch of Christmas Future: Pine-apple Punch
Level: Advanced | Prep: 24 hours | Serves: 20 drinks
Created by: Acclaimed bartender Nick Strangeway
Ingredients: 1.5 litres apple juice, 1 litre chilled lemon verbena tea, 500ml Banks 5 Island Blend Rum, 350ml Banks 7 Golden Blend Rum, 300ml Douglas Fir syrup, 200ml Douglas Fir-infused Banks 5 Island Blend Rum, 200ml apple molasses, 100ml citric acid solution
Method: To create the Douglas Fir Syrup, infuse 10g of gently dried Douglas Fir needles in 250ml of boiling water for about 10-15 mins before adding 250g of caster sugar. Stir well to dissolve the sugar and then strain to remove the Douglas Fir Needles. Keep refrigerated before use. Next make the verbena tea by infusing 3-4 large sprigs of fresh lemon verbena in 500ml of boiling water for 15 minutes, or brew several verbena tea bags for a few minutes. Add 500ml of cold water and leave for a further 10 minutes before straining. Keep refrigerated. Next, infuse 5g of gently dried Douglas Fir Needles in 200ml of Banks 5 at room temperature for no longer than 24 hours. Strain before use. To create your Punch, combine all the ingredients in a large Punch bowl with a large block of ice. Garnish with dehydrated crabapple wheels and serve.
Does this all seem a little too much like hard work? If you're London-based and you want to sample a Banks Rum-based Punch without the faff, The Wigmore bar at luxury hotel The Langham has added the Hop, Cane and Bean cocktail to its menu until 31 December. Head bartender Steve Georgiou has put a contemporary spin on the traditional Milk Punch with Wigmore Saison beer and Union hand roasted cold brew coffee, and we hear it's delicious.