After many weeks of unsubstantiated rumblings about a new bottling from Ardbeg, the rumours can finally be dispelled.
Upon visiting Ardbeg's website, one discovers an absolutely intriguing page, reminding us more than a little bit of Scooby-doo cartoons of yesteryear.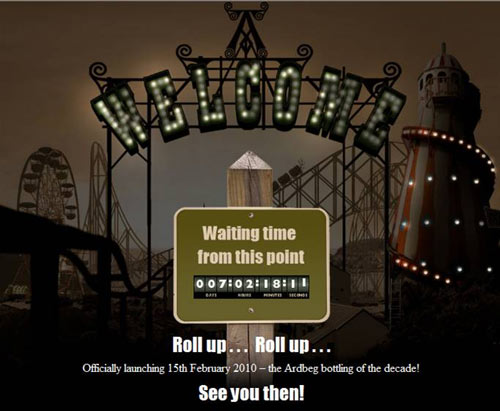 On a bit more digging, we discovered that it relates to a very interesting new bottling of Ardbeg, called 'Rollercoaster'. The wonderfully innovative chaps at Ardbeg have vatted a full cask from every year of Glenmorangie PLC ownership from 1997 to 2006 (none after 2006, as it would not have matured for the minimum 3 years required to be called whisky).
The casks used in the blend are as follows:
1997: Second fill Barrel
1998: Refill Hogshead
1999: First Fill Barrel
2000: First Fill Barrel
2001: Refill Barrel
2002: Refill Barrel
2003: First Fill Barrel
2004: First Fill Barrel
2005: Second Fill Sherry Butt
2006: Refill Hogshead
If other multi-year blending projects from Ardbeg are anything to go by, this promises to be quite something, and the fact that it's all post-takeover stock certainly lends somewhat of an air of intrigue.
Sadly, it's only going to be made available to members of the Ardbeg Committee, so us lesser mortals will have to 'make do' with the existing range. Our recommendation is a bottle of the newly released Ardbeg Corryvreckan. This cask-strength stunner absolutely blew us away when we first tried it, and at £60 a bottle it's not exactly a bank-breaker as far as special releases go…
Get it while you can here – Ardbeg Corryvreckan.
The Chaps at Master of Malt