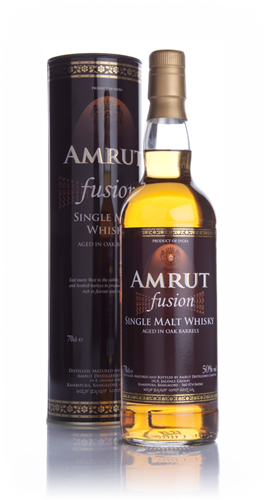 At Master of Malt, we've loved Amrut's releases over the years, especially the awesome cask strength bottlings! Now Jim Murray has declared Amrut Fusion to be the Third Finest Whisky in the World with a whopping 97 points, we thought we'd have to offer our thoughts…
A little about the distillery…
The Amrut distillery was founded in Bangalore (or Bengaḷūru as it's known in India), an area known as India's Silicon Valley. Originally producing dark rums and brandy, it wasn't until the '80s that Amrut began to distil single malt.
Interestingly, Indian whisky is bottled after only a few years of ageing. The reason for this is the intense climate which speeds maturation to the extent that 12% of each barrel is lost every year to the angels' share (more than 6 times that of Scotland!).
To create something completely original Amrut distilled Fusion from both Indian and Scottish barley and before tasting we're already expecting Amrut's trademark fruity, malty house style, so here goes…
Nose: Off the bat we're on malt and rich dark chocolate. Deep and punchy with hints of dry sherry, chocolate raisins and a touch of cola extract.
Palate: Whoa! Massive barley character, honey too. Tangy high notes of sloes and plums. Creamy and balanced.
Finish: Great length, malt and fruit. Then a hoppy development and perhaps a hint of turmeric?
Overall: Really mature and rounded. Very sophisticated.
Amrut has come into its own with Fusion. Every flavour knows its place; this just doesn't put a foot wrong. How they've managed it at such a price is beyond us! A tour de force.
 – The Chaps at Master of Malt