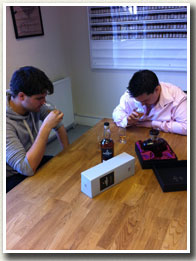 So, it would seem that the hype surrounding the release of Aldi's 24 year old and 40 year old 'single malts' has now died down (with one notable bombshell yet to come courtesy of our chums at caskstrength.net. Keep an eye on their site. We won't spoil the surprise), and the whisky world has returned to its former calm self. Well, I say calm… As calm as it can be whilst sending out enough Christmas booze per day to fill a small swimming pool.
There are tales aplenty in the feedback to our first blog post about the queuing, jostling, and general shenanigans surrounding the release, but we, being the ever inquisitive souls that we are, wanted to revisit the whiskies away from the initial tasting, and see just what we made of them in the cold light of day.
So, after a few futile experiments in sending various people out into the freezing colds to brave the hordes at the gates of Aldi, I finally gave in and resorted to eBay to obtain a bottle of each for proper review. When purchasing the first bottle to come up (the 24yo), one of the most gratifying e-mails ever arrived in my inbox from the person selling the bottle. I shall quote (with Simon's kind permission):
"I have just realised that you are Ben who writes the blog at Master of Malt. The strange thing is that I bought this bottle on spec, but then after I read your review I decided to sell it on. I can only assume that you told a pack of lies on the web, the malt is actually really good and you are buying up a good supply. I do love a good conspiracy theory. On the other hand I might just had a few too many Arran 14 yr olds this evening!! LOL. All the best, and keep up the good work on the blog."
Simon
The system works! Huzzah!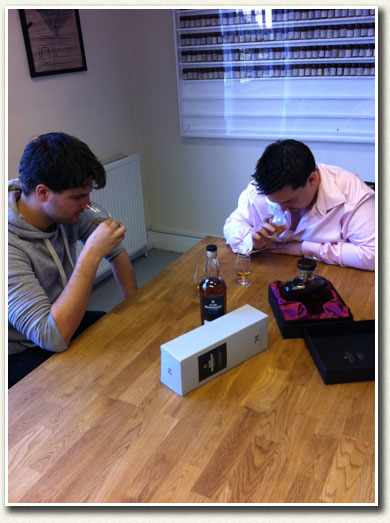 The Masters at work
Anyway, self-aggrandisement aside…Mike and I sat down to taste them again this morning: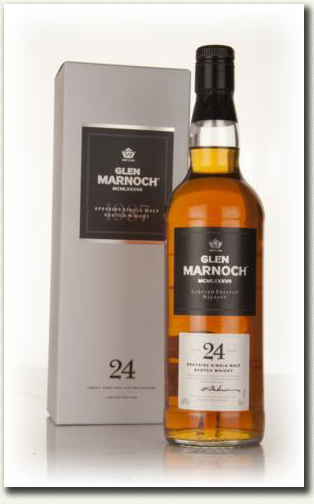 Ben
Nose: Red Apples, Evostik, and Linseed Window Putty
Palate: Thin. Yet more industrial adhesive. Intensely astringent, saccharine and bitter.
Finish: Bitter, slightly burnt, a seam of good barley pops its head up for just a sedon, but is immediately bludgeoned into submission by boiled dry and burnt chicken stock.
Overall: Awful. Just awful.
Mike
Nose: Very grainy, with a lot of cereal sweetness, hints of vanilla and hay. A hint of cheap rum and raisin ice cream with just a soupcon of Solero ice lollies.
Palate: Some vanilla sweetness and runny honey on white toast. The sweetness develops and the whole thing becomes very much like sugary grain alcohol. Not a lot going on I'm afraid to say, and much more like a blend than a single malt.
Finish: Sweetened milk, porridge oats and brown sugar.
Overall: Meh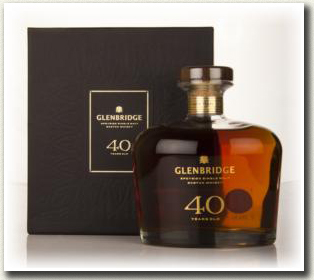 Ben
Nose: Sherry, Umami-rich tasty-goodness, Chewing Tobbaccy, Cinnamon Candy-Floss (well, what I imagine Cinnamon Candy-Floss would smell like – is it even a thing?)
Palate: Initially quite savoury. A good whack of oatcakes followed by dry sherry, Candied Cherries and over-smoked salmon.
Finish: Dries out into Walnut Shells and Buttered Granary Toast. Very pleasant. Not the longest of any 40yo I've ever tried, but I'm nitpicking.
Overall: Good at twice the price, but at £50, it's an absolute steal. Belter.
Mike
Nose: Lovely nose of rum spice and old sherry wood. Hints of peach melba, crème caramel and a good solid core of malt picked up by rolling tobacco sweetness.
Palate: A well-rounded balanced palate with malt upfront, alongside hints of panna cotta, Amontillado sherry, lime zest, peppercorns and manuka honey.
Finish: Medium length, some soft suggestions of allspice, dried apricot and Demerara sugar.
Overall: A decent single malt. Easy going and relatively one-dimensional, but definitely a steal Aldi's original £49.99 price tag!
So there we go then. A good 40, and a shocking 24.
And just a reminder – if you didn't manage to get hold of either, you can always console yourself with a dram of something more sustainably priced. Why not a nice bit of Bourbon? We've even got a special offer on at the moment on the Heaven Hill Stuff. You could win signed bottles and all sorts.
Fin.
Ben and Mike.