There is an absolutely huge kerfuffle going on in the mainstream press at the moment about the hot new release of the first English whisky in over 100 years from St George's distillery in Norfolk…
We visited the distillery in September and met with Managing Director Andrew Nelstrop. We've got a few juicy exclusives, photos and insights to share with you lucky, lucky people.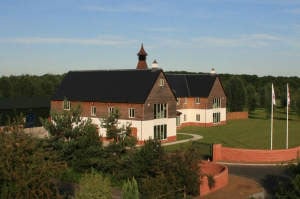 The Distillery and visitors centre. The still room is behind the large window facing the front on the first floor.
We'll start by saying first and foremost that we absolutely adored the spirits we tasted – the complexity and depth of flavour found in the samples we tried with Andrew were stunning, and the dedication to excellence displayed at every step of the distillation and maturation processes were truly a delight to see.  These guys are doing it properly.
The distillery is located in a picturesque village just outside Norwich, and on pulling up to the entrance, we thought we were looking at a rather nice country home rather than a working distillery.  It would doubtless have been incredibly easy (not to mention cheap) More…