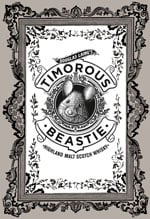 An autumnal morn I come to find,
Some lovely folk have been very kind.
A box on my desk! Who left this behind?
A curious thing.
I suppose to me this box was assigned,
But what was within?
With a pen I opened it, like a vault,
And claimed the contents within by default.
Sweeties and whisky, could not find a fault,
My, what a feastie.
Here sat Douglas Laing's newest blended malt,
Timorous Beastie!
If poems aren't really your thing, let me explain what just happened in a non-Burns stanza fashion. Found a box on my desk. Opened it. Inside were some samples of Douglas Laing's newest release, Timorous Beastie Highland Blended Malt, and also a sugar mouse to go with it! Yes, that would have been a quicker and easier way to say what happened, but it kind of kills the art of the whole thing, no?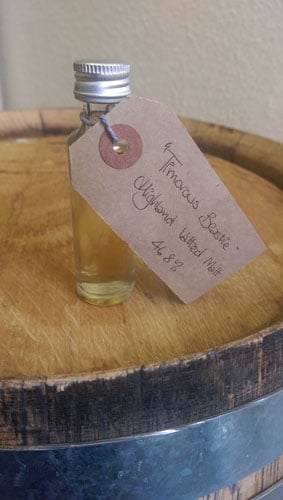 You little beast.
Anyway, yes, Timorous Beastie! A new blended malt, joining the little crew that they have going with Big Peat and Scallywag. While their previous blended malts have focused on Islay and Speyside (respectively), this little rascal sets its eyes northwards, being made exclusively with Highland malts, the likes of Dalmore, Glengoyne and Glen Garioch, among others.
After winning big at the 2014 World Whiskies Design Awards, coming out on top in the Best Blended Malt Whisky category for the awesome Scallywag bottle (it's simple algebra: dog with a monocle = awesome), they've gone and made another beautiful bottle for their new Highland blended malt. But what does a mouse have to do with whisky? And why did this sample come with a sugar mouse?
Little sugar mouse, you are cool, but why are you here?
Well, the phrase "timorous beastie" comes from the poem 'To A Mouse' by The Bard himself, Robert Burns, written after accidentally ploughing over a mouse's mouse house. However, while the mouse in the poem was a timid little thing, the Timorous Beastie is big, bold blended malt, a nod to Burns' famous wit. It's akin to giving your big, muscular, hard-nut friend the nickname Tiny.
So, poetry and mice aside, what does Douglas Laing's new release taste like? Let's have a try!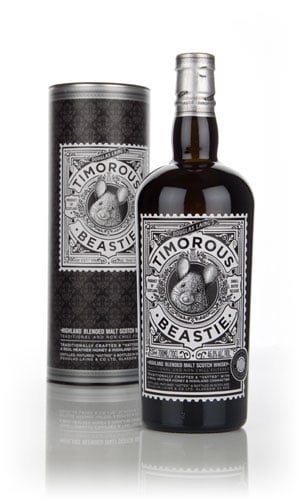 Tasting Note for Timorous Beastie
Nose: Acacia honey, boiled sweeties (the strawberry flavour), dried apricots and white grapes. There's a good whack of meaty Sherry influence in here too. A whiff of coastal air and classic Highland heather, too.
Palate: Dried fruits, green apples and anise. Sweet grist and malt loaf. Pebble beaches and more heather on the mid palate.
Finish: Long. Drying with hot cinnamon sweeties and fresh bread.
Overall: Who are you calling timorous? This beatsie is big, brave and an absolute blast!
And with that, Douglas Laing have an Islay blended malt, a Speyside blended malt and a Highland blended malt that you can now get your hands on. We do hope that they come along with Lowland, Campbeltown and Island blended malts, not only because it means more tasty whisky, but also because it could mean more pretty bottles too! They've already got quite a team together, with Big Peat, the Fox Terrier from the Scallywag bottle and now the Timorous Beastie. It's almost like a superhero team: The Douglas Laing Force!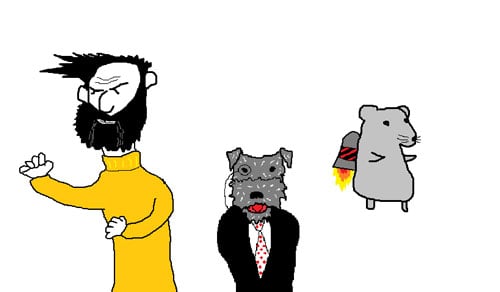 An artist's impression* of just how awesome The Douglas Laing Force could be.
Speaking of Big Peat, alongside the sample of Timorous Beastie was a sample of Big Peat Christmas 2014, along with a candy cane! We've not got any of this in yet, but we'll be sure to let you know when we do. For now, consider this little preview like sneaking downstairs to quickly shake the presents under the tree…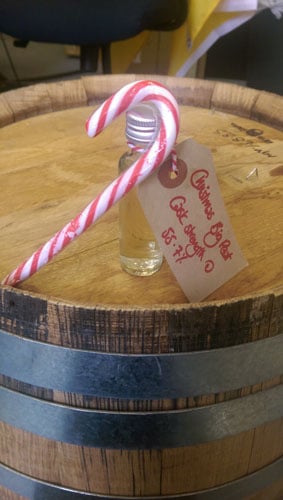 Tasting Note for Big Peat Christmas 2014
Nose: Thick, crumbly oatcakes with a bit of brie. Ice cream and jelly. Pencils. Big notes of earth, with medicinal notes coming through after a minute or two. Ham – plenty of ham.
Palate: Bonfire embers, light struck matches and sea breeze. The oatcakes are back, but this time they've been loaded up with fruit chutney and served alongside some blackberries. A drop of water opens up salty notes.
Finish: It just goes and goes, this one. Smoke and earth all the way to the end.
Overall: Wouldn't mind finding this one wrapped up under the Christmas tree, that's for sure.
Sam
*Before you ask, yes, this was done in MS Paint. And before you ask again, yes, I do commissions.