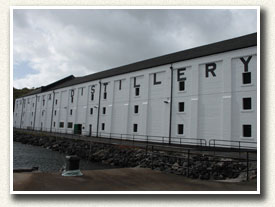 Well, as we write this post we're basking in the warm glow of the candelabra, and the unforgiving light of a laptop screen, which is down to its last 20% of battery life. That's right, there's been a powercut. Just like the story of the optimist and the pessimist… The pessimist says: "this is terrible, it can't possibly get any worse!" the optimist says: "oh yes it can…"
Right now it's cold, dark, damp and miserable outside, but we're soldiering on.
Today began promisingly, with Caol Ila's open day, though the weather was not on our side. We parked on a grassy hill in force 10 gales, and were gracefully ushered to the distillery bus by what felt like a hurricane. We then drove down to the Caol Ila distillery, the most remote on the island.
The drive is beautiful, and the steep descent which circles round the back of the old warehouses offers up a variety of lovely shrubbery, and a staggering view over the channel between Islay and Jura.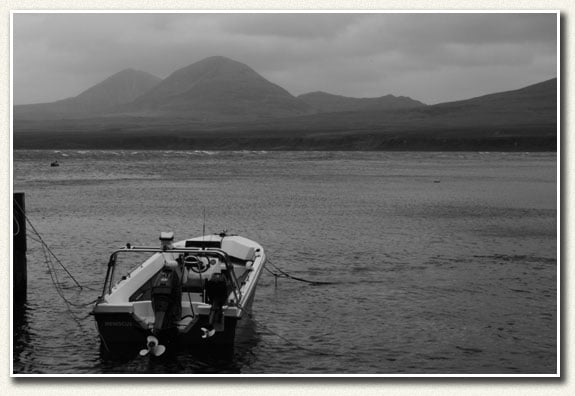 After acquiring our prized festival bottlings, we snuck round the back of the still house. Now, take in the sheer size of the set up, and just imagine, within a couple of weeks, they'll be significantly expanding their facilities to an even greater size.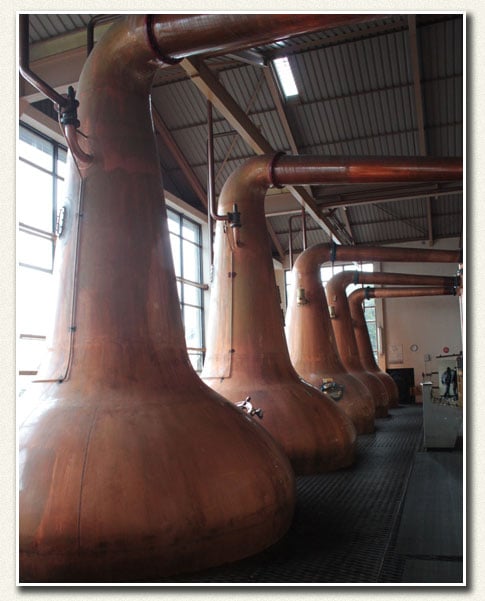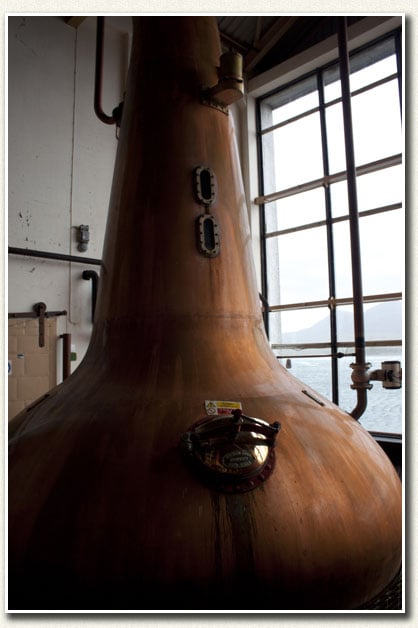 The washbacks: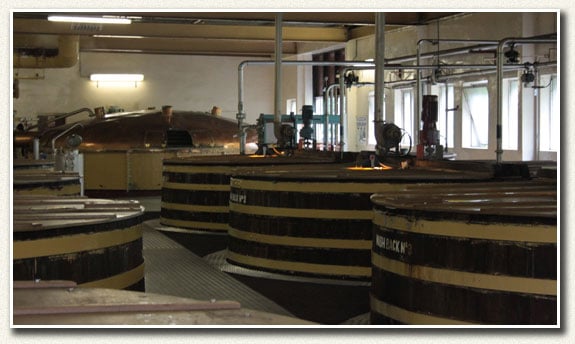 The Spirit Safe: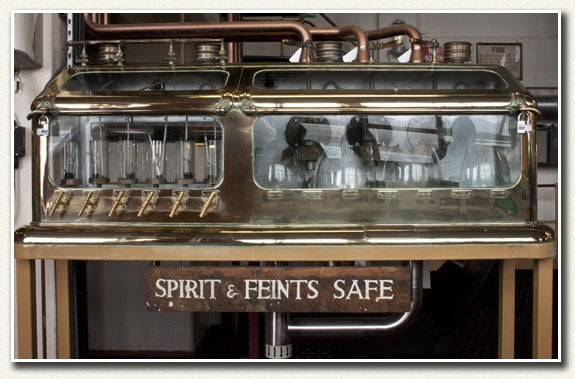 A control unit from Thunderbirds: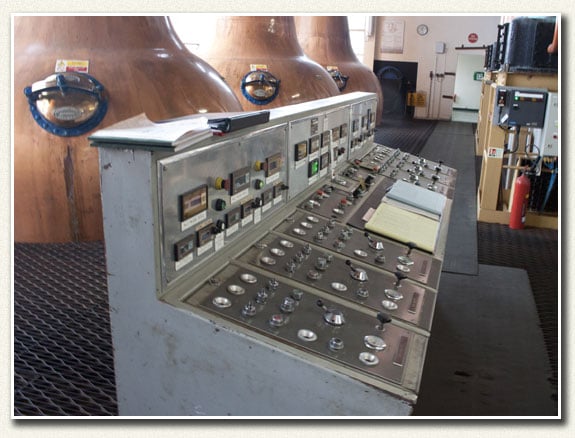 Having secured our bottles of Caol Ila Feis Ile (say that ten times fast), we cracked open a bottle and sampled its goodness. We have to say that this is our favourite Feis bottling thus far:
Nose: Lemon Sherbet, fresh and zingy peat, and just a little hint of Raisin, provided by the superb Sherry butt from which this bottle was drawn.
Palate: Textbook Caol Ila, but with a strong backbone provided by the Sherry cask. Much akin to the distillers' edition, but at full and unadulterated cask strength. Sterling stuff. Huge Cinder-Toffee sweetness creeps in gently, but doesn't overpower.
Finish: The peat gives way somewhat to a butterscotch, salted caramel flavour which persists beautifully, interweaving itself with the smokiness to provide one of the best Caol Ilas we've tried in ages.
Overall: An absolute belter of a bottle, this one, and no surprise that the queue for the bottles took a full hour from start to finish, despite the remoteness of the location.
Thanks to the bracing weather, there weren't quite the crowds that Bruichladdich enjoyed on its open day. We hopped on the bus and drove down to Bowmore for some light lunch, washed down by a couple of gorgeous local beers, including Finlaggan, and the Islay Brewery's Feis Ile 2011 ale, made in conjunction with Bowmore. In fact, they use malted barley from Bowmore, and they age it in "the finest North American bourbon casks" which previously held Bowmore's maturing single malt whisky. It's an intense brew, with a trademark "muscular" peat smoke and maritime character.
The wind had really picked up, as evidenced by this now ruined umbrella. The Islay gods did not take kindly to our Talisker-branded merchandise.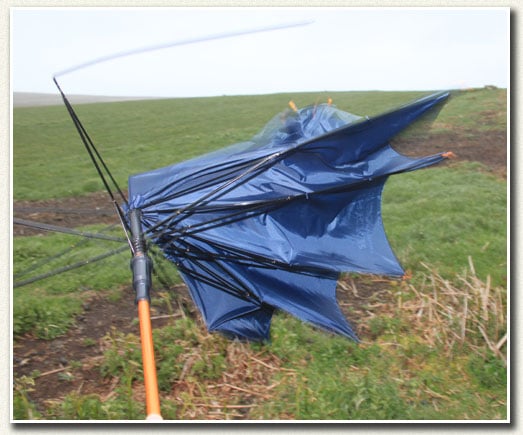 As evening approached we drove down to the south coast, and parked up just outside of the old buildings at Port Ellen. You're about to be jealous… You see, we were going for a tasting, and one set in what was once the old filling house for the world's most legendary distillery – now a welder's workshop. We were treated to a full and comprehensive tasting of all 10 of the Port Ellen Special Releases. We felt spoilt, and conditions were rapidly improving for us.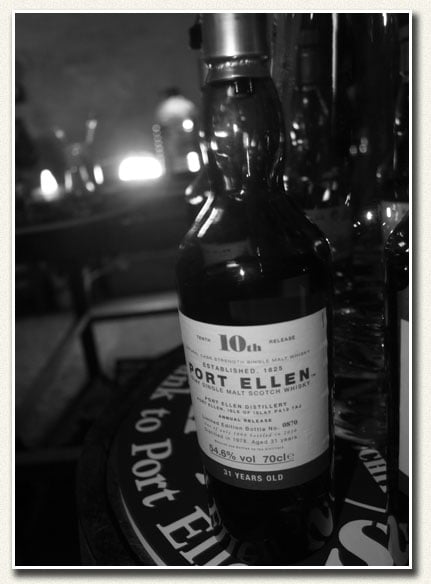 The tasting was led by Jon from Fiddler's Restaurant and Whisky Bar over by Loch Ness. If ever you find yourself Loch Ness way and in need of a good dram, search out Jon, tell him Master of Malt sent you, and he'll sort you out.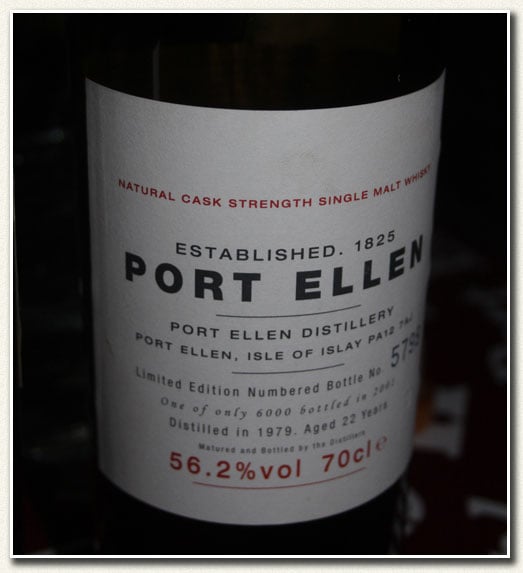 Port Ellen – First Release
Nose: Sherbet Lemons, only a hint of Coal Tar, Nice Smoke, but limited peat. Touch of Cinnamon perhaps?
Palate: Restrained peat, herbal, nutty, perhaps a touch of Coffee Krispy-Kreme donut
Finish: Long, Persistent, Smoke and Peat comes through more on the finish.
Overall: Delicious. We can see why these became classics.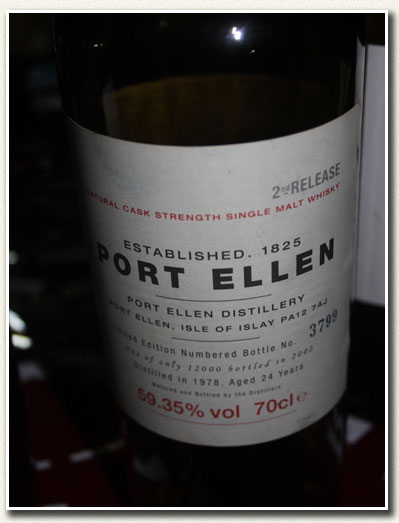 Port Ellen – Second Release
Nose: Much more floral, hints of Lavender, nicely peaty, more so than the first release.
Palate: Very Chewy, Pipe tobacco, Parma Violet and Lavender on the palate.
Finish: Much bigger than the first release, lingers for ages.
Overall: Bigger than the first release, this one. More going on, and lingers much longer on the palate.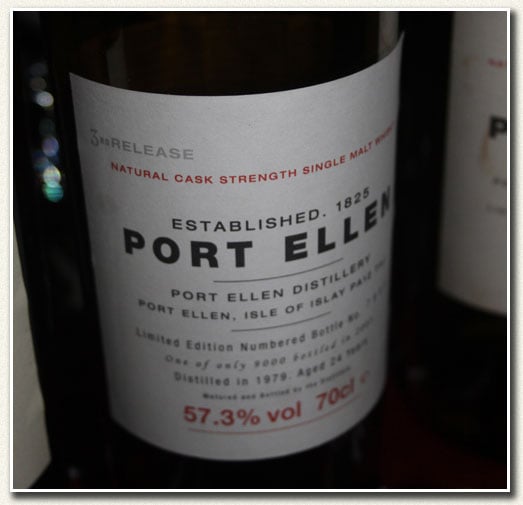 Port Ellen – Third Release
Nose: Bigger still. The consensus on this one was simply 'wow'.
Palate: Very Chewy Peat, and still more floral than the second! Something akin to Rosehips has taken over from the lavender here. More linear in delivery than the second one, not as big, but perhaps more focused in delivery?
Finish: Vanilla comes through, and development of the rosehip element from the palate.
Overall: More focused than either the first or the second release. Split opinion between this and the second.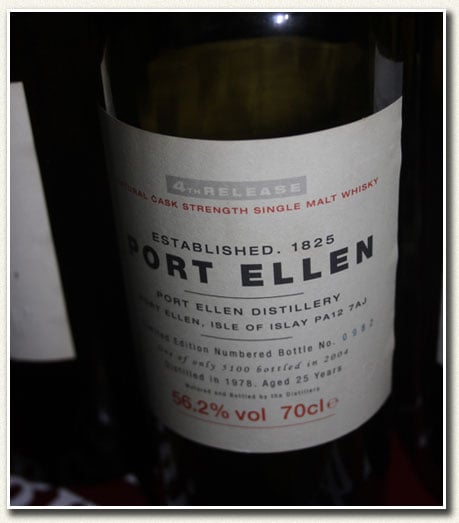 Port Ellen – Fourth Release
Nose: Maybe a touch of Peanut Butter in there somewhere? Touch of Caramelised Oranges, still great peat, and very well integrated.
Palate: Sweet, but somehow very rich in Umami at the same time. Hangs around on the back of the tongue and down the sides of the palate for simply ages. We decided that Peanut butter was actually a very good descriptor, as it really clings to the palate.
Finish: Long. Very Long indeed. Smashing.
Overall: Superb. Better than the third, but perhaps not the second…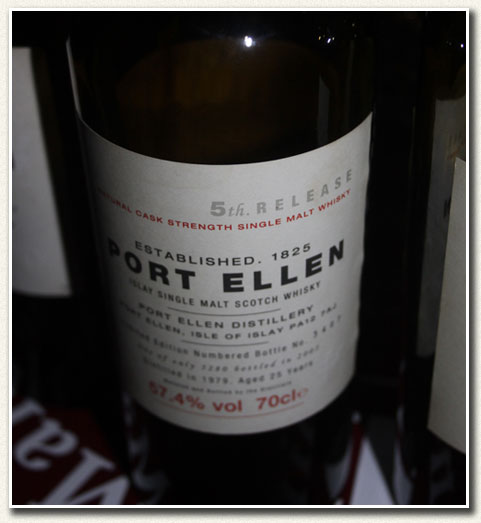 Port Ellen – Fifth Release
Nose: Big hit of Grapefruit and Melon, nicely tropical… Then switches to the peat, but not huge peat, nicely balanced again…
Palate: Very sweet, but balanced with a hitherto unseen salinity in droves…
Finish: I'm just going to transpose the comment from the Dictaphone here: "Whisky's really nice isn't it?"
Overall: A marked departure from the previous bunch, much more tropical and zesty. This is perhaps the most stereotypical PE yet.
At this point the power went, and the emergency lighting was brought in. This promptly failed as well, leaving us in near darkness.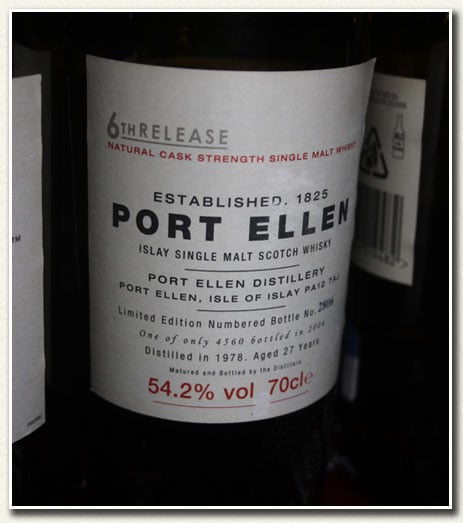 Port Ellen – Sixth Release
Nose: Smells a bit like sherbet lemons and coal tar soap.
Palate: Very sweet again, and immediately moves into biscuit. But Biscuity-topping rather than just a straight biscuit. Much sweeter than a normal biscuit. After much debate we settled on either 'the stuff you get in those Muller Fruit corners that purport to be healthy, but simply aren't' or 'Crunchy nut Cornflake clusters. The ones with Caramel in, that if any of our respective wives or girlfriends are reading this blog post, we definitely haven't bought because we're away from home and can get away with that kind of sh*t for the next week or so. We're on Porridge every day, promise'. Cranberry and Goji-Berry, maybe a touch of saltiness here too.
Finish: Starts very weak and disappointing, but immediately jumps back in with more biscuit richness, and intensity.
Overall: Deceptive due to the huge drop in the mid-palate, but overall a very malty and rich dram.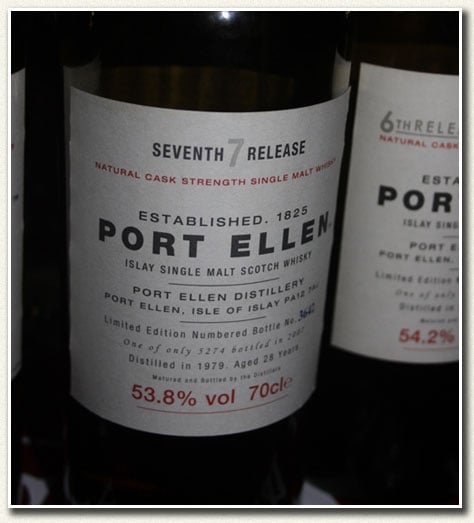 Port Ellen – Seventh Release
Nose: Lemon is immediately evident, and again, after a bit of debate, we settled on Sussex Pond Pudding (a suet-sponge pudding with a whole lemon baked into the middle of it).
Palate: Salt-cured, pickled lemons, but again, more of the baked puddings (someone said Sticky Toffee Pudding). Much more of a typical Port Ellen than either of the previous two.
Finish: The sweetness of the puddings give way to something of an Oatcake note. Cereal-rich. Just superb.
Overall: One of our favourites so far.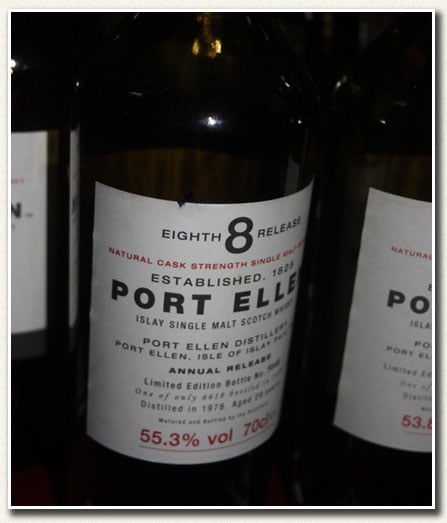 Port Ellen – Eighth Release
Nose: Slightly Aspirinny? Something very medicinal and lightly 'sparkling'.
Palate: Touch of Tomato-stems here perhaps? Very tingly on the palate, suggests perhaps slightly too much alcohol evident here?
Finish: Again, a touch of Alcohol burn evident, and a slightly odd 'fizziness'.
Overall: Not particularly impressive – although perhaps following that seventh release, nothing stood much of a chance?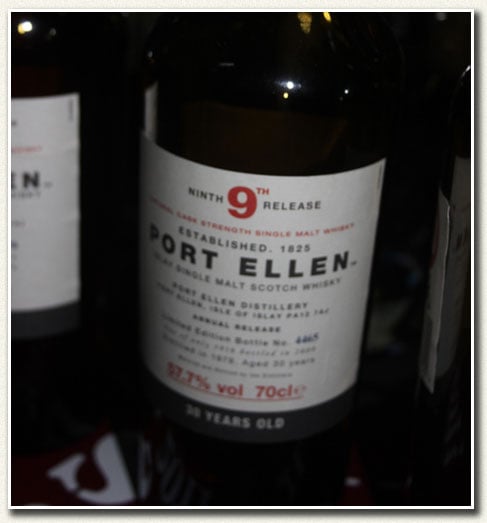 Port Ellen – Ninth Release
Nose: Sweet. Boiled Sweets maybe? One of us got Caramac Bar. Dandelion and Burdock, and a Nan-recalling combination of Barley Sugar, Aniseed Balls, and Murray Mints.
Palate: Very Dandelion and Burdock, a little bit of Ginger, Cloves, Aniseed, and a touch of Cream Soda.
Finish: Peat comes through, very nice, pepper comes through on the finish.
Overall: Well, this really is just an old-fashioned sweet shop, but a really old fashioned sweet shop that mainly only stocks sweets that you really don't want to eat.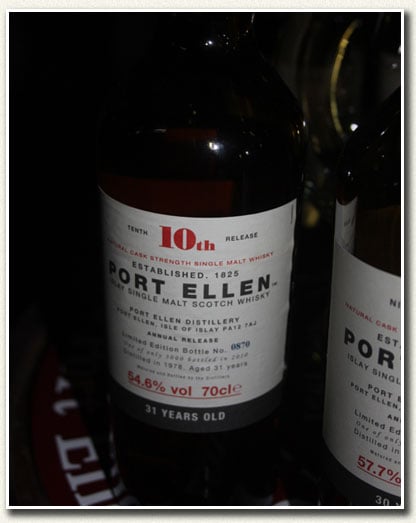 Port Ellen – Tenth Release
Nose: Very Herbal, coriander, parsley, prune-juice. Carrot and Coriander soup (the worst kind of soup).
Palate: Very rich at the back of the palate, light and soft at the front, and a nice hit of Hazlenut Praline in the middle of the palate.
Finish: Not as impressive as some of the earlier releases, but still an absolutely epic dram.
Overall: Very nice, and we all agreed that it's very easy to lose perspective on the relative quality of a dram such as this when you've tasted nine others previously.
Port Ellen – The Diageo Special Releases (summary)…
Yum Yum Yum. All jolly nice.
Then we got onto the independent stuff, kicking off with a wonderful little curio…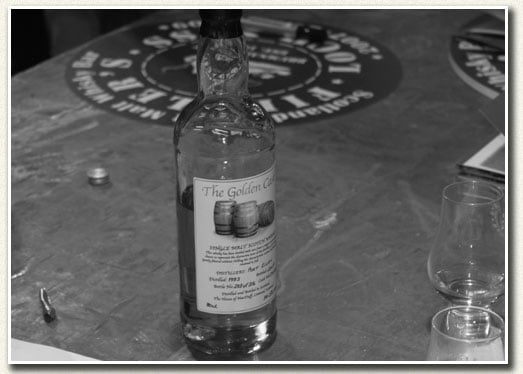 Port Ellen 1983 – Golden Cask 54.2%
Nose: Treacle, Raisins… Californian Raisins with Flapjacks! In fact, flapjacks were raised by more than one of the group.
Palate: Nice porridge-y element to it. More fruity, Demerara-rich flapjack.
Finish: Unlike a Port Ellen, although it's very good.
Overall: None of us would have placed this as a Port Ellen at all – very strange.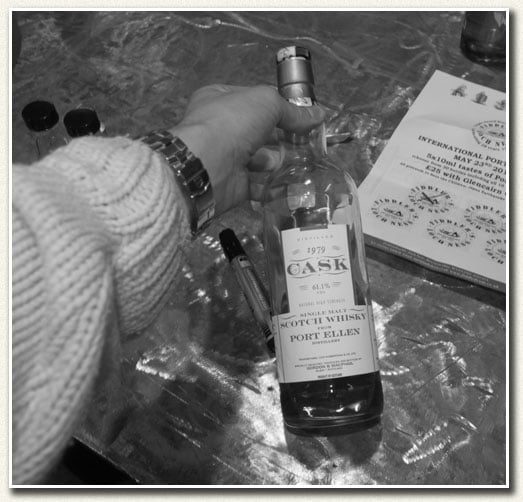 Port Ellen 1979 – Cask Strength (Gordon and MacPhail) 61.1%
Nose: Sweet. A very big Vanilla Element to this one. In comparison to the previous lot, the smoke is much milder and drier.
Palate: Orange, Smokey notes, turns slightly meaty towards the end of the palate.
Finish: Stereotypical Sherbet Lemons creeping back in here. Great Stuff.
Overall: A marked departure from the official releases, but strangely, in some way, more stereotypically 'Port Ellen' than any of them.
Port Ellen 1970 – G&M Connoisseurs' Choice 40%
Nose: Absolutely epic. Reminded us of Glenfarclas Millenium in its absolutely huge – almost sulphurry, but somehow delicious because of it – Robustness. More than a hint of Body Odour, but again, this is no indictment of its quality. It contributes hugely.
Palate: Sulphur, Rubber bands and B.O., maybe a slightly mildew-y mould to it.
Finish: Touch of Soapiness. Slightly thinner than some of the others.
Overall: "Like a Chamois-leather Shirt you've been playing tennis in" Neil Ridley – 2011 It's often the case when you're writing these kind of notes that you'll read them back and think " 'bleurch' that sounds awful", but in this case, it all knits together superbly to create something spectacular. This was the dram of the night for more than one of the group.
Port Ellen PE2 – Elements of Islay
Nose: Heavily Sulphured Sherry, Really Dirty, but in a very, very good way.
Palate: Just enormous Sherry and not much else.
Finish: Like Port Ellen hiding behind a frankly terrifying mask.
Overall: It's not really Port Ellen, but by god it's rather good.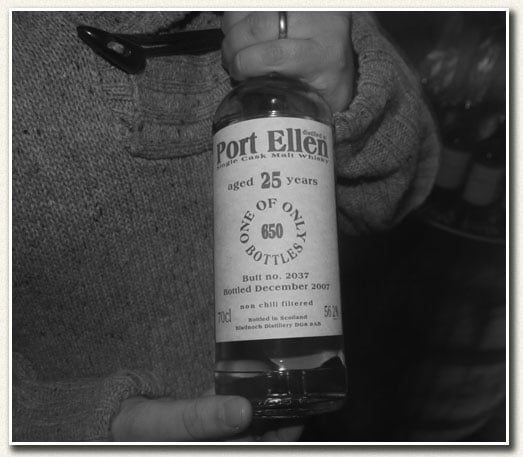 Port Ellen 25 Year Old (Bladnoch Forum Bottling)
Nose: Pretty weak. Not much going on here at all. At first inspection seems a bit tired, although there is a background of lemony peat in there.
Palate: Stereotypical Port Ellen; Loads of Sherbet Lemon, and just grows and grows in the mouth to become really palate filling. A big surprise after the really quite limited nose.
Finish: Lingers for a good long while.
Overall: Incredibly palate-filling. Not really much going on on the nose, but by god it's big in the mouth. This was probably about £12 when it was released as well, as it's a Bladnoch Bottling!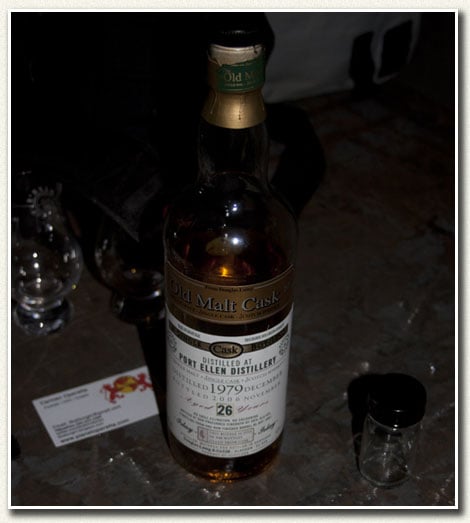 Port Ellen 1979 26yo Rum Cask Finish – Old Malt Cask (Douglas Laing)
Nose:
Something slightly fusty, almost like the
Pusser's
Blue Label Rum distilled in the Wooden Pot-Stills. Very subdued Smoke.
Palate:
Very one-dimensional. Almost like the Rum Cask has counteracted some of the more interesting notes from the Spirit. This isn't to detract from it though, as the overall effect is really rather superb.
Finish:
Long and really quite decent.
Overall:
One-dimensional, but very good indeed.
Jon had brought a couple of vary rare finds to finish off the evening. The first of these was, believe it or not, the youngest PE we'd ever tried. A 15 year old bottled by Gordon and MacPhail. Perversely, in another way it's also the oldest we've ever tried as well, having been distilled in 1969! Back in those days they still used direct heat to fire the stills at Port Ellen, so we're expecting lots of rich, toffeeish notes.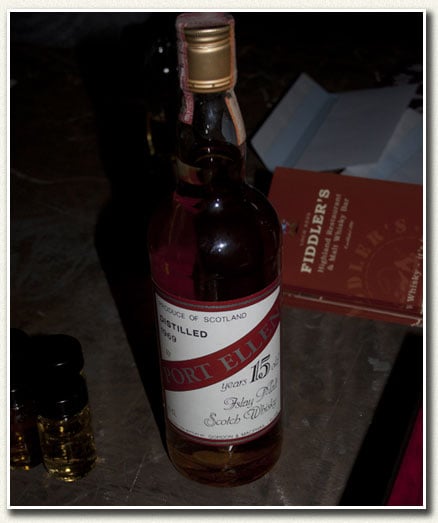 Port Ellen 15 Year Old 1969 (Gordon and MacPhail)
Nose: Really Classic – Chamois Leather's back again in force… Raspberry and Strawberry, but with some very interesting floral top-notes too.
Palate: Fennel, peat-smoke, and maybe a slightly sour-cream-y off milk note… very good, although it's very easy to tell that this is has spent less time in cask than those we've tried before.
Finish: Switches to a slightly burnt caramel, with a slight back note of bacon. Touch of Kedgeree, with cream.
Overall: The Youngest, and Oldest Port Ellen that any of us have ever tried. Youngest in the fact that it's spent the smallest amount of time in cask, and oldest in as much as it comes from 1969. Cracking. This was followed by another very rare treat, but certainly not what we expected to taste! It was a 12 year old Rosebank, bottled in the 1980s. We did once have a very similar bottle for sale on our site, but it's long gone now. If you've got one, hold on to it (or send it to us), because it's astonishing.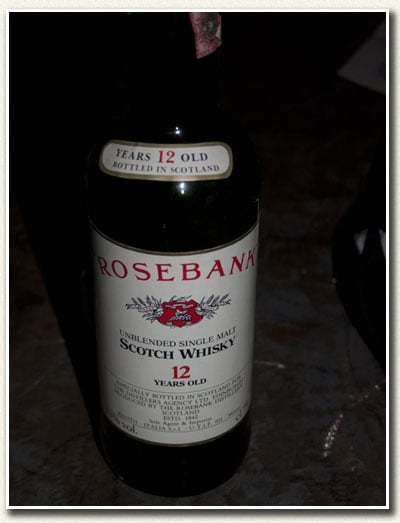 Rosebank 12 Year Old (Bottled 1980s)
Nose: Hugely floral, very sweet. A decent amount of orange Marmalade (one of us insisted that it was shredless). Very very pungent, but in a very floral and relaxed way.
Palate: Very very big indeed. This is a real surprise. I think we were all expecting something much less punchy, but this is a serious dram.
Finish: Long. Dries slightly towards the end, but the marmalade sweetness continues, even if some slightly burnt toast comes along to join the party.
Overall: Spectacular. We were left pondering how this distillery could ever have been closed, but perhaps the surroundings we were standing in (one of Port Ellen's filling stores, now converted to a metalworking workshop) provides the most succinct answer without the need for words.
After this we said our goodbyes (and heartfelt thanks) before we had to dash. Next up was our final port of call for the evening, the Ramsay Hall at Port Ellen.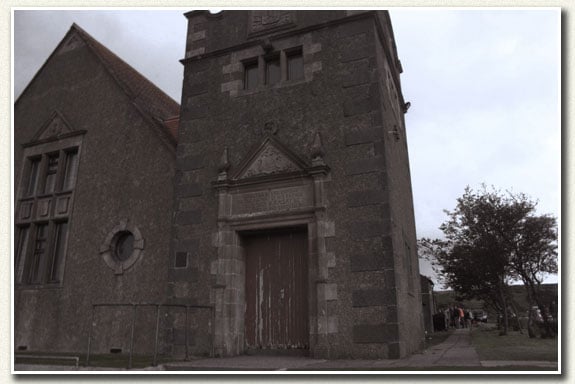 The power was still down when we arrived, so we queued outside in the wind and rain for nearly an hour before we could be let in. In typical philanthropic fashion, we immediately disappeared off to the car to retrieve the stash of drams we'd bought along for just such an eventuality. Almost immediately after we'd given succour to the masses, the power came back on and we were allowed to enter the building. The Islay gods had obviously forgiven us for our previous transgression.
Once inside we took part in the ultimate nosing competition. The premise was simple: blind nose (no tasting allowed!) the entry level expressions from each the distilleries on Islay, and Jura. These were presented in blue glasses, so there were no clues to be had by looking at the malts. There was one little giveaway though: sample number 3 was missing. This seemed odd at first, until we realised that Jura was entirely cut off from Islay by the veritable tempest which raged outside.
Before you ask, no, we didn't even come close to winning. In fact, only one Brit picked up a prize – Neil Ridley from CaskStrength.net, who took home a bottle of Kilchoman for reaching joint 3rd place (joint with 5 others, all of whom were of Scandinavian persuasion – they can't be beat when it comes to whisky). Look at how excited he is…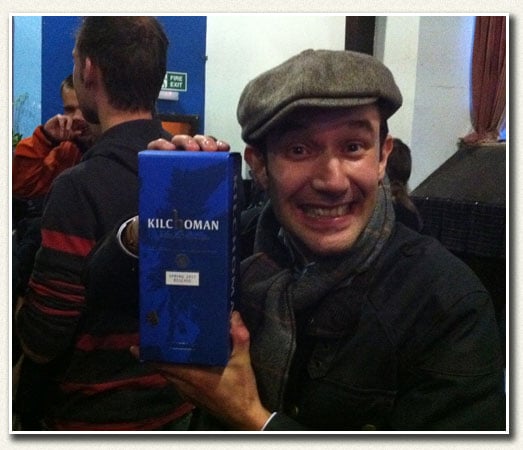 By this time it was half nine, and we retired back to the cottage for some well-earned supper. Naturally the power was still off, but amusingly we were (as far as we could see) the only house on the island without power. One of our neighbours kindly heated some soup up for us, which we are currently wolfing down whilst writing this…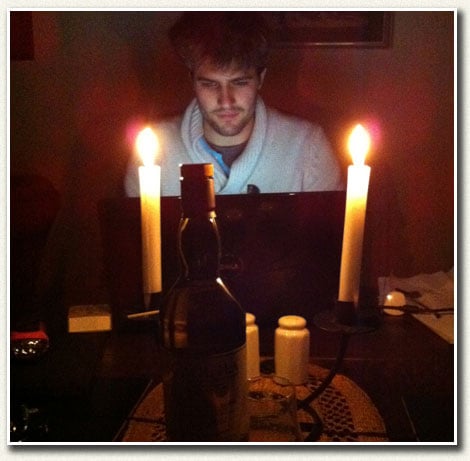 Check back tomorrow to hear about adventures at the Laphroaig open day!
– The Chaps at Master of Malt –