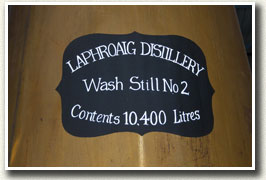 By this morning, the weather had lifted, and whilst power had not yet returned to our quaint little cottage, we felt like our fortunes were changing for the better. With no means of cooking breakfast (or for Darren to make use of his ridiculously loud juicer), we headed out at around half eleven, and made our way to Ardbeg's café for stomach-lining sustenance (which came in the form of a delicious crab chowder, followed by venison steaks). All in all it was good and hearty and just what we needed. If you're ever on Islay, Ardbeg's eatery is well worth a visit.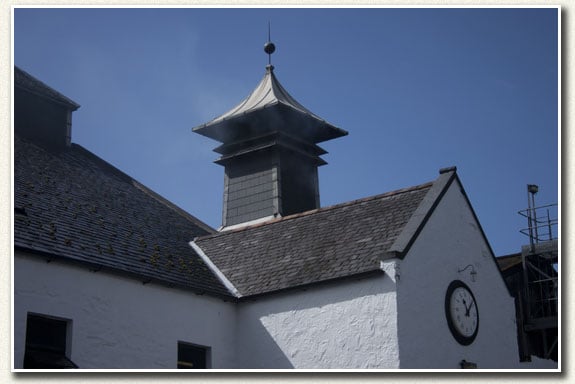 Once we felt suitably sated, we drove the five minutes back down the road to Laphroaig, for today was Laphroaig's open day, and we were very excited about it. Laphroaig seems to be perhaps the most pervasive of all the Islay whiskies, and for many of us, it was our first taste of peaty single malt. It's so incredibly characterful, and so very rich and intense; you either love it or hate it. As you may have guessed, we fall well into the former category.
The day was made up of masterclasses and tastings, but first we had to claim back what was rightfully ours… As many of you will know, Laphroaig offers a rather ingeniously-devised reward-scheme for the more die hard members of its fanbase. If you are a "Friend of Laphroaig" (the apt name for the distillery's followers) and you're willing to make the trek to Islay and visit the distillery in the flesh, Laphroaig will give you your own square foot of land, and rent (to the tune of a dram of whisky). Upon arrival at the distillery, they'll look you up on their computer-majig, which looks like this: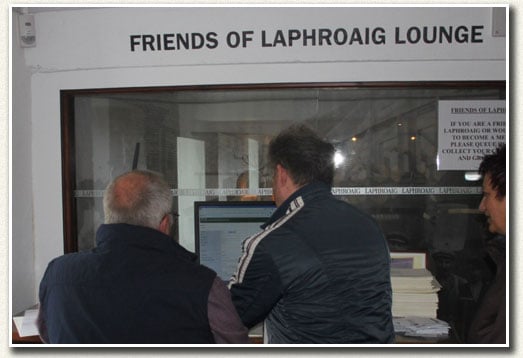 Then they'll find the exact number and location of your plot. You are given a pair of wellies, a flag which you can personalise before planting firmly in your official square foot of Islay – situated just above the distillery entrance – and directions to your plot.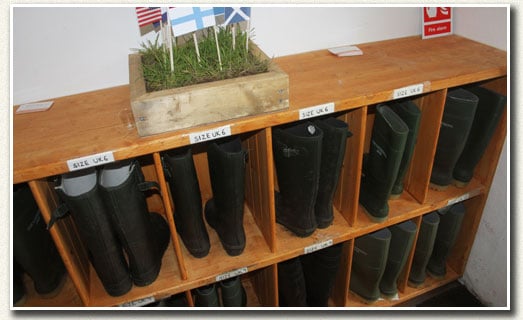 After we'd laid claim to our estate, we popped back into the visitor centre for some well-earned whisky, and we couldn't wait to try it. We were being treated to Laphroaig's festival bottling, "Cairdeas – Ileach Edition". Cairdeas is Gaelic for "friendship", which is a nice touch, and thoroughly summed up the community spirit and bonhomie that the heaving masses had brought to the distillery. The second part of the name is a reference to the whisky's creator, John Campbell. John, who we've interviewed once before, is Laphroaig's first Islay-born Master Distiller, thus the word "Ileach" – the term for residents of the island. He used Maker's Mark bourbon barrels when making the Cairdeas, and it's bottled at cask strength too. Here are our findings: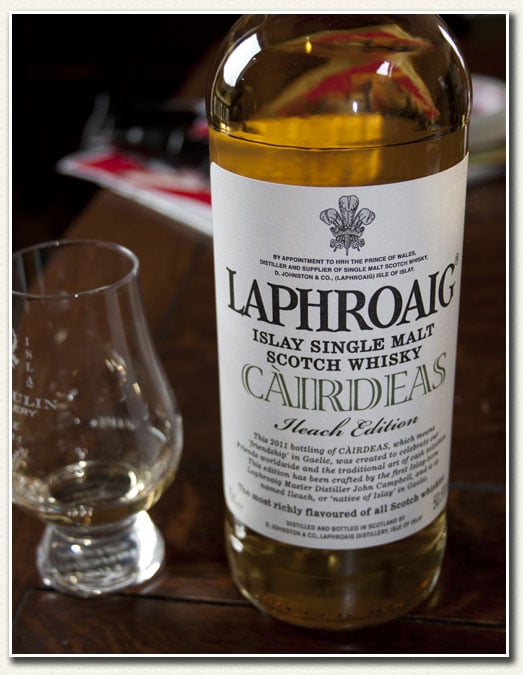 Laphroaig Cairdeas Ileach Edition 50.5%
Nose: Good level of sweetness on the nose. We get Gipsy Tart dressed with TCP (not a recommended dessert), some light fruit, perhaps a hint of stewed pear and vanilla. Hints of sooty smoke, and maybe even some lychee and menthol too, and just a soupcon of perfume.
Palate: Really oily, with huge peat smoke mixed with creamy, buttery sweetness. As you hold it in the mouth, foam banana sweets develop, with hints of chocolate and apple strudel. It tastes exactly like a sweeter version of the pungent smell at the distillery; there's that wonderful savoury peat smoke from the maltings; some seaweady/slightly medicinal tones (which drift in from the beach); and slightly dry salt air.
Finish: Long. Big charcoal notes at the back of the palate, maybe just a suggestion of Mezcal, which works really well.
Overall: A great dram. In fact, our favourite Feis Ile bottling so far! It's a bit like peated bourbon. 'Pourbon' if you will.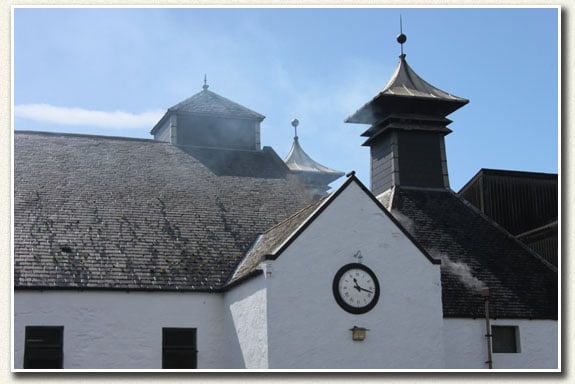 Once we felt that the officials had their backs suitably turned, we snuck into the maltings. It's truly a fantastic experience to make it into a working maltings, and nowhere more so than at Laphroaig. Firstly you have the salty sea air, the strong smell of seaweed which lines the shore, and then you have the massively rich peat smoke which pours through the buildings. It just sums up what the whisky is about, and it affirms the notion that single malt Scotch is a spirit of provenance; a true product of its environment.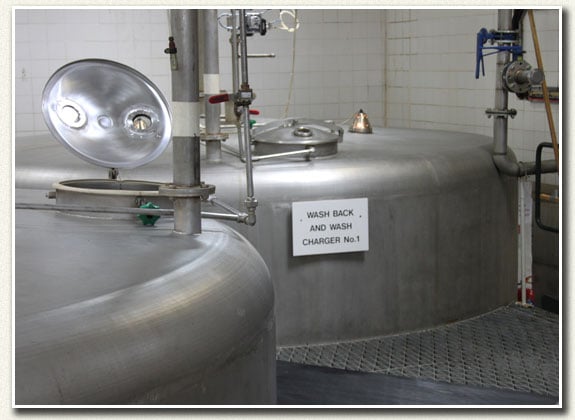 We ventured down the steps into the corridor by the kiln and, as soon as we walked through the door, were greeted by intense peat reek. The kiln was on, and the kiln doors were open, and it was utterly astounding: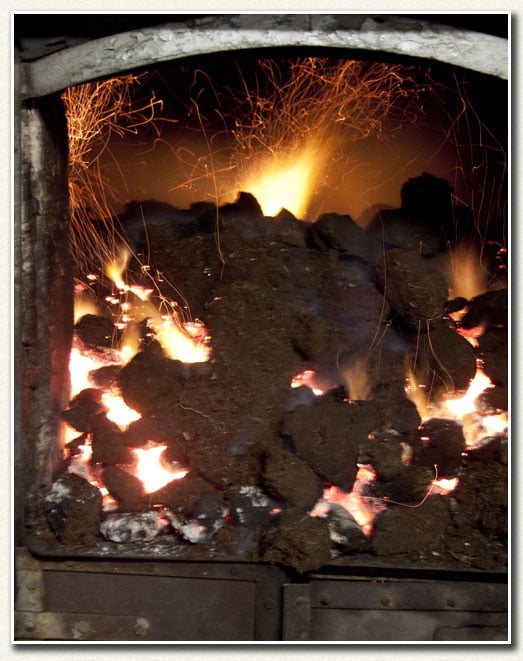 After basking in the warmth of the kiln, we took the stairs up to the malting floors, which were vast, empty, cavernous rooms, with barley raked across the floor in neat rows like a Japanese garden.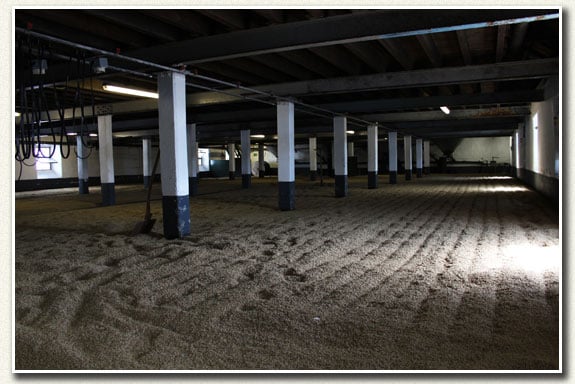 We checked to see if anyone was coming and, when the coast was clear, opened the metal doors to the drying floor:
We took the steps outside to the seafront, and gazed back on the iconic view of the Laphroaig distillery: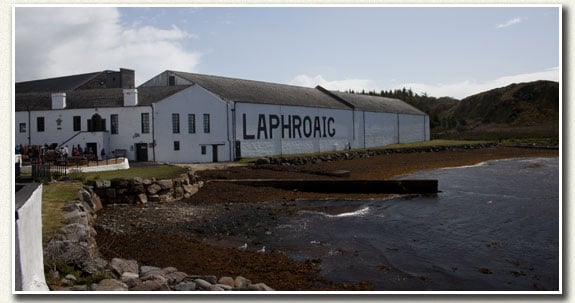 As we stood there in the bright sun, blue skies, and pungent salt air, enjoying a glass or two of Laphroaig's cask strength 10 year old, we realised how lucky we are to be here on this island. After finishing our drams, we wandered over to the stillhouse, for a quick chat with one of the stillmen. We were greeted by another feast for the senses; the view over the distillery and smoking pagoda roofs; and the thick, cereal-sweet aroma from the stills.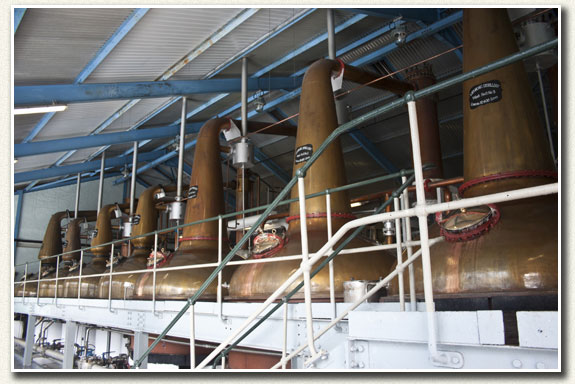 After we'd made the most of the Laphroaig open day, we drove back down to our cottage and were greeted with electricity, which was very exciting indeed. So, to celebrate, we began cooking ourselves a feast, though naturally the power went again. We weren't to be deterred, as anyone who knows us will attest that there is literally nothing that will get between us and a good steak.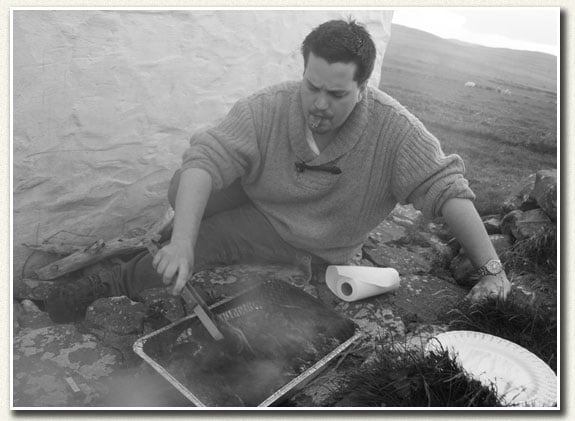 Using our dwindling reserves of initiative we used a disposable BBQ tray, positioned round the side of the house were there was a good amount of wind to act as a bellows. The key to a good steak is heat, and lots of it, and with the right level of wind (about force 8 we think), those disposable trays work really rather well. Before heading indoors we had a run-in with a photobombing cat: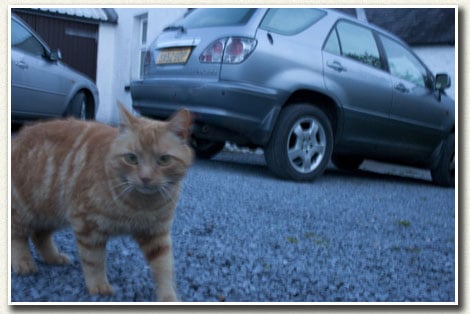 Check back tomorrow to read about how adventures at Bowmore distillery.
– The Chaps at Master of Malt –