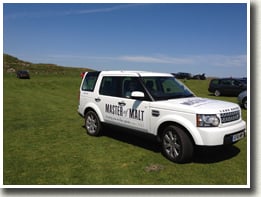 I'll begin from the end and work backwards today as Balvenie has done a number on my brain and it's the only way I can recollect the events preceding this moment.
I recall at half past six this morning, I watched as the Balvenie brand ambassadors drove away with the Malt Mobile. I apparently did not protest enough at the claim that 'Ben said it was ok.'
This unfortunate event was preceded by a beautiful, if boozy, dinner. We entertained the Boys of Balvenie at Chez Malt for a lush four course meal catered by Chef Benedict and sous chef-ed by Gareth and Nick. Beef carpaccio, fresh Islay scallops, and casseroled lamb were on the menu—the lamb was particularly delightful having spent the entire day in the oven. Dimitri, over from Russia, had just—literally just—welcomed a newborn son into the world, so much celebration was in order.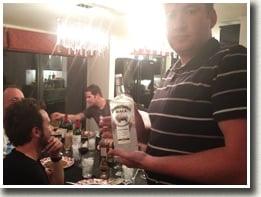 We are sorry the vodka was Polish Dimitri
Suffice it to say: champagne, wine, cocktails, food, ukulele, guitar, hot tub, and cigars.
In advance of the Balvenie Boys dinner, we all piled into the Malt Mobile, belting out Guns 'n' Roses tunes accompanied by Sam Simmons on guitar. Where were we driving from, you ask? I'll tell you.
We were guests at a blind nosing competition held at Ramsey Hall in which attendees had the opportunity to nose 11 standard expressions from all of the Islay distilleries, Jura, and two other islands. We were then required to guess which whiskies were from which distilleries in the hopes of winning a prize. Sam Simmons, Dr Whisky himself, accurately placed 7 of the 11 whiskies (only 1 behind the winner) and won himself some very lovely bottles, indeed. I admittedly struggled after having nosed and tasted no fewer than 11 whiskies already. Brain overload.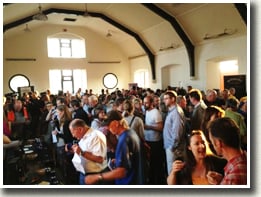 The Ramsey Hall nosing competition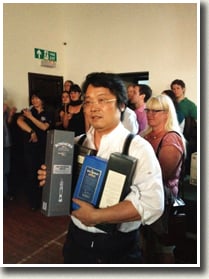 The winner, as last year, was Hidaio from Japan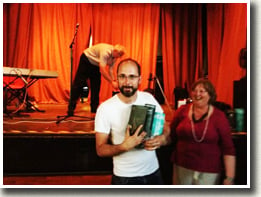 And Dr Whisky came in third
Before heading to Ramsey Hall, we attended a spectacular Port Ellen tasting led by the incomparable Jon Beach. In attendance were the Pol Roger chaps, our friends from Lagavulin Hall, and—you guessed it—the Balvenie boys themselves.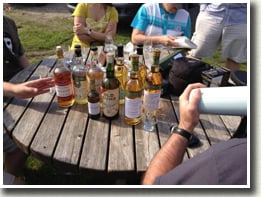 The whiskies for the Port Ellen tasting
Amid the tasting, a wish for swimming was expressed by someone (not naming names so I'll just use the pronoun 'me') and that notion was seconded by Andrew Forrester, or Andrew the Lionheart. With another beautiful day of weather under our belts, the ocean was enticing…and very, very cold. I maintain that the best view of Port Ellen is from the water, but sadly I had not stashed a camera in the pocket of my swim trunks. Andy impressed the tasting by demonstrating his best butterfly. We retreated to the tasting when Andy became mildly hypothermic. Nothing that a wee nip of whisky couldn't fix.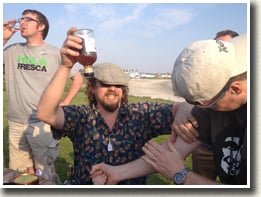 John Beach demonstrates how not to taste whisky
We had the opportunity yet again to try some very fine and rare whiskies as supplied by our hosts.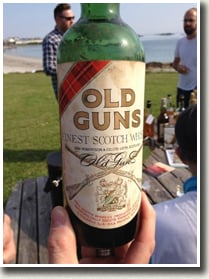 Old Guns, a historic blend which may or may not contain Port Ellen
Old Guns blend
Nose: Lemon meringue; crème anglaise, sponge cake and orange citrus.
Palate: Creamy sweet and very smooth with a pronounced maltiness. Oat biscuits studded with raisins.
Finish: Short, quite dull and metallic.
Overall: A very unique dram but sadly this was too old, and had gone a bit flat.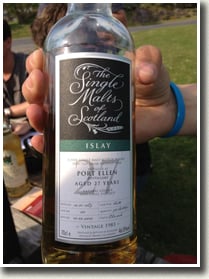 Port Ellen 27 Year Old, bottled by The Whisky Exchange
Port Ellen 27
Nose: Burning rice paper and popping popcorn; this is biscuity, with roasted nuts, wood spice and mint.
Palate: Full with a sophisticated woody dryness. There's a pronounced menthol note with hints of lemon. The body is bready, like a multi-grain loaf.
Finish: Long and full of dry citrus and salt.
Overall: An incredible dram, a highlight in a day of exceptional whiskies.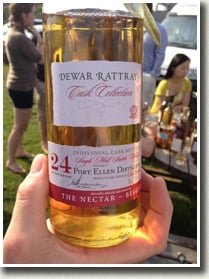 Port Ellen 24 Year Old bottled by Dewar Rattray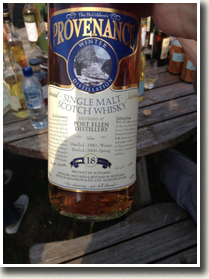 Port Ellen 18 Year Old, Provenance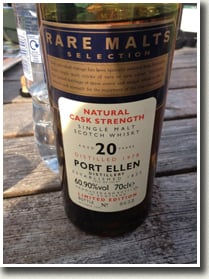 Port Ellen 1978 20 Year Old Rare Malts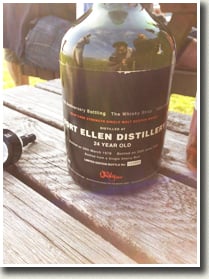 Port Ellen 24 Year Old, bottled for The Whisky Shop
We arrived at the tasting in the Malt Mobile sometime after 4.30, as the sun was still fairly high in the sky, and after we had scooped of Jon Beach (again!) on our way from Caol Ila. It was, in fact Caol Ila day on Islay. We had arrived at the distillery good form and had managed to book ourselves into a manager's reception at 3pm, leaving us just enough time to make it to Port Ellen for 4pm. Needless to say, we were late.
Caol Ila was shining in the beautiful weather and we managed to have a few drams before heading to the manager's reception. Here are our impressions on a couple of them:
Caol Ila Moch (The Dawn) No Age Statement, bourbon cask 
Nose: Smoked oyster, sherbet lemons, new rubber
Palate: More salty smoke with a citrus sweetness. Some light brown sugar and caramel.
Finish: White peppery sweetness.
Overall: An interesting unpeated dram from Caol Ila, and they're not planning to produce any more so get it while you can.
Caol Ila Feis Ile, 2nd fill sherry butt
Nose: Smoked venison and red current jelly, new trainers.
Palate: Rich, full and meaty; hot cross buns and butterscotch, huge sherbet lemon taste.
Finish: Citrus sweet with caramel undertones.
Overall: A big whisky that's light on the peat but still packs plenty of punch.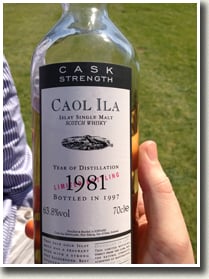 Caol Ila Distillery Only Edition
Caol Ila Distillery Only Edition
Nose: Brandy, sea salt, and iodine.
Palate: Velvety but drying with a pepper heat and a pronounced astringency.
Finish: Hot and grassy with a salty tang.
Overall:  One dimensional, but it's a good dimension.
We were treated to a whisky and food pairing overlooking the sound, and the Caol Ila (the boat) was on display for tourists to have peek at. It was all quite civilised, but we were a Master short as Gareth had to nip back to the cottage to pick up the whiskies we were to bring to Port Ellen. In the time it took us to pick up a few distillery and festival bottlings and attend the Manager's reception, Gareth was away and back, ready to transport us across the island.
The day began well enough with a 6.30 am wake-up, blog post writing, cake baking, and laundry doing. We were mostly bright and fresh, and exceedingly happy to be on such a gorgeous island. It all started so well. Just 30 hours later, I am typing while just barely propped up on the sofa, fading in and out of sleep, and hoping I have the stamina to keep calm and carry on.
Indeed.