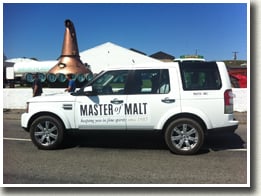 Having survived the wilds of Edinburgh and a skin-of-our-teeth race for the last ferry to Islay from Kennacraig, we found ourselves settled in to our exquisite cottage on Islay quite nicely. A little too nicely.
We began the day with rare and glorious sunshine, savoury crepes for breakfast, and the promise of an exceptionally brilliant day. After a bit of admin work (you can't keep a nerd from his computer), we were on our way in the trusty Malt Mobile—now sullied with the carcasses of many an insect— to the Bruichladdich open day.
We arrived at the Laddie distillery with the wind in our sails, ready to sink our teeth into an afternoon of music, food, Jack Russell terriers, cocktails, people, and…oh, right. Whisky. Bruichladdich had stacks of its festival bottling: the XX Nostalgia which has been aged in a Barolo Cask (more on this later). The gang made a beeline for the bottle shop, snapping of several bottles of the stuff without batting an eyelash. Like whisky terminators.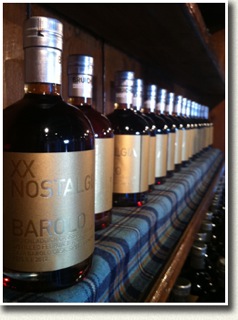 Lots of Nostalgia
Here are our tasting notes for Bruichladdich XX Nostalgia – Feis Ile 2012
Nose: Sweet green grapes, sherry, fresh plum, brown sugar, sea salt, sand dunes with scrub grass, faintest whiff of woodsmoke.
Palate: The nose may be fresh but this is a big, rich dram. Sweet fruit on the start – grapes, slight citrus tinge, develops with a dry vamilla oakyness and the faintest tinge of smoke.
Finish: Pleasantly dry with a white peppery heat. There's a soft hint of banana too.
Overall: This is great. Dangerously easy to drink, it's big, rich dram that's not overly complex but is nonetheless rather tasty.
Ben and I then left Gareth and Justin to their own devices to attend a masterclass hosted by the ineffable Jim McEwan, averitable whisky legend who has worked in the industry since the dawn of time. The session was packed with consumers, whisky folk, and locals alike, and Jim followed a format of a dram and song (each dram was followed by a song from a local musician). Jim Presented six very special Bruichladdich whiskies, many of which are not available for retail.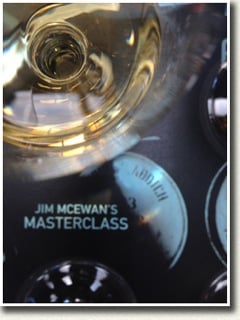 It was agreed the top dram of the session was 3-year-old Octomore, matured in toasted virgin American oak. It was 65%, but you'd never guess. Here are our tasting notes:
Nose: Southern barbecue, molasses, spice, roast pork and charcoal. A veritable smokehouse.
Palate: Insanely, deliciously sweet; sweet barbecue sauce, pulled-pork sandwiches. The palate doesn't reveal its modest age, and many were fooled.
Finish: The meaty, smokey flavours decay and you are left with the sweet molasses rolling gently off your tongue.
Overall: Alarmingly good. A real surprise dram and definitely worth picking up a bottle just to see people's faces at tastings. The toasted virgin oak has worked eonders and created an incredibly unique dram.
Here are some brief thoughts on the others:
6 Year Old Islay Barley
A luminous lemon with a harvest gold hue, says Jim. Very light, with a fresh and fragrant honeysuckle on the nose leading into pear, green apple, and oaky vanilla. Gentle sweetness with cinnamon upon the second nosing.
22 Year Old First fill ex-Bourbon cask
A rarity as not available for sale. Dried coconut, butterscotch and kiwi with a hint of maple syrup waiting in the wings. Meaty and rich with notes of warm wood—like eating biscuits in a sauna.
18 Year Old ex-Bourbon ACE-d in Chateau d'Yquem
Flowery, nutty, and creamy—honey nut Cheerios in milk. Deep gold with an almost buttery flavour. Hints of dried grass and vegetal notes coming through.
Black Art
Can't say much about its origins as no one's allowed to know what's in it! Strong cinnamon and red wine on the nose developing into vanilla maple. Sweet orange and crème brulée lead to a vanilla finish.
10 Year Old Port Charlotte
Sweet heather honey with a touch of peat and lemon zest. More smoke on the palate with black pepper and candied lemon peel. Smoke fades to reveal sage and juniper and an uplifting finish.
After the class, the gang reconvened for an array of culinary delights and to soak up the sun [we're likely the first humans in hundreds of years to have suffered a sunburn on Islay]. Back with the Pol Roger boys (it's Feis Ile, man!), we were then joined by the Balvenie Boys for oysters and cocktails. Fresh scallops and grilled burgers were also on the menu, and I, as designated driver, was contented with a raspberry swirl in a cone.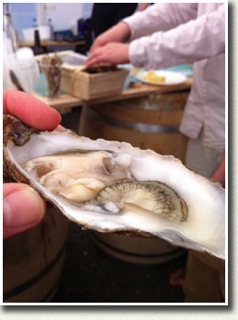 Ben did a marvelous job of shucking
With the sun still high in the sky (it is Scotland, remember) we were back off home for a mini kip and to prepare ourselves for yet more feasting and whisky sampling. But not before being accosted by some tipsy festival-goers who had spotted the Malt Mobile and wanted their photograph taken with us to win a prize. One of these 'delightful' chaps even attempted to lick my face. One of the hazards of being a woman in whisky. Back at Cottage of Malt, the lads had a brief revisit to the hot tub while I plucked a few tunes on the ol' ukulele. Then it was back in the Malt Mobile and on to Lagavulin.
On our way to Lagavulin Hall, we dropped into Bruichladdich to scoop up the irrepressible John Beach who regaled us with tales all the way across the island. Once at the house, we were greeted with aplomb by Angus and Alan and without wasting any time, tucked into an array of old and rare bottles. We all sat down for a boozy and perhaps more insane version of the Mad Hatter's tea party (can you guess who played the Mad Hatter?) complete with a lobster quadrille, and we were entertained by the chaps from Mulberry Bank with an impromptu auction. Surely, God has not lived in this converted church for many a year.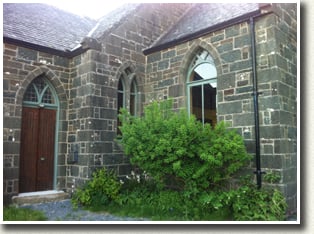 Lagavulin Hall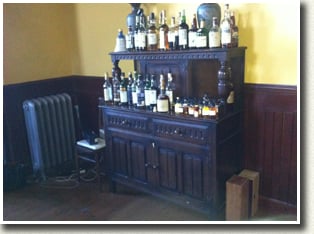 There were some truly exceptional whiskies on this cabinet.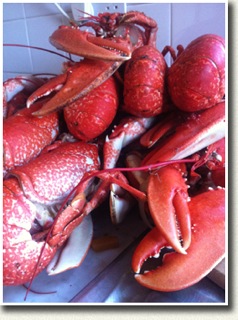 Dinner
We tried a lot of whisky. Here is a reprasentative sample, with some brief tasting notes: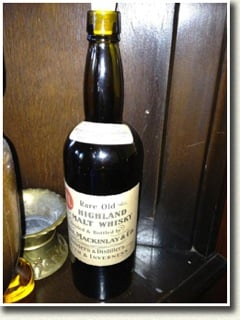 Mackinlay's Shackleton Blended Whisky
Soft and smooth, full of fresh fruit notes – apples, pear and banana – and new cut grass. Also there's a pleasant waxiness. This is all sweetness and light but it's not too straightforward either.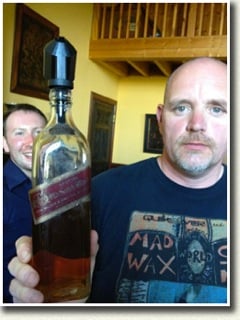 Johnnie Walker Red Label, 1930s bottling
Beautiful smoke throughout, with the thick toffee sweetness and wax. Recognisable as the famous blend but so much more… beautifully subtle peat.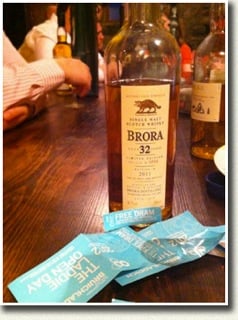 Brora 32 yo 2012 release
Very fresh, grassy and citrusy with castor sugar and syrup. Tastes very youthful for a whisky this old, but retains the depth you expect.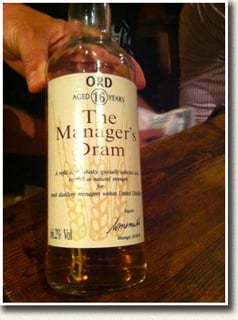 Glen Ord 16, The Manager's Dram
Boot leather, polish and Demerara on the nose. The palate is huge, salty and leathery, like chewing a used saddle. But actually something you want to do. A really, really good dram.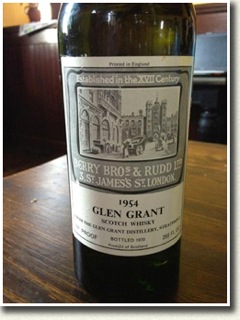 Glen Grant 1954 – Berry Bros and Rudd Bottling
Buttery minty nose with a palate that's light, smooth and sweet. A sophisticated waxiness on both the nose and the palate. The menthol theme continues  in the mouth but it's subtle… everything about this whisky is subtle. A misleadingly complex dram with a light touch.
As midnight approached, I wrestled the crew away from their 'Bell's' decanter whisky and shuffled everyone back in the Malt Mobile. A truly miraculous twilight sky and low moon lit our way home (made better only by some power ballads on the stereo) and provided a dreamlike backdrop through fields and coastal towns.
The hot tub again beckoned, and though it was well past 1am, nothing could have prevented me from the promise of achingly hot water overlooking the sea on a clear, starlit night. Only the sounds of lambs calling to their mothers could heard in the growing dark—not even a breath of wind disturbed the silence. As the light faded and we gazed into the growing collection of stars above, Justin, Gareth, and Ben saw most beautiful shooting star they had ever seen. I, however, failed to see it.
Typical.