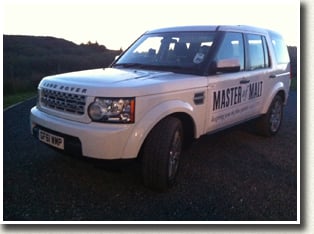 I woke up, and removed myself from bed with the cautiousness of a man who has just undergone complicated surgery.
Unbelievable. Despite my memory rendering the last few hours in similar detail to a five year old's picture of the Sistine Chapel, I was all right. Praise be indeed!
I congratulated myself on my iron constitution. Today would be a day of winding Highland roads and tight schedules. Not a day to be under the weather.
And the sun was out, the birds were probably singing but it being the centre of Edinburgh you couldn't hear them, and everything was right with the world.
I met Cat in the lobby and went in search of coffee. Just down the road from the George Hotel is Wellington Coffee. This was indeed fortuitous, because they produce some of the tastiest caffeinated beverages in the city, and I treated myself to a very fine double espresso. Cat has a flat a white and we both agreed this was very good coffee.
Ben had inquired earlier as to whether we were alive, a question we could now answer wholly in the affirmative.
He had been busy, buying a stupendous amount of cheese and looking for a wine shop.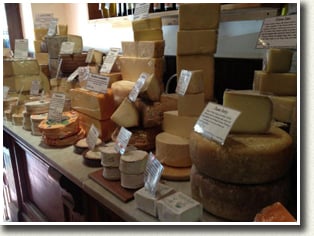 A stupendous amount of cheese
Meanwhile Justin had been sleeping, but we rendezvoused at the Malt Mobile and drove out of Edinburgh towards Glasgow with the intention of achieving two things: Buy enough shopping to feed ourselves for seven days, and collect a bag for Dr Whisky from Glasgow Airport.
Time was our enemy – the last ferry to Islay sailed at six whether we were on board or not, so we had to get moving.
As is so often the case, the sat nav was not our friend, and seemed to take malicious delight in sending us round the centre of Edinburgh several times before finally emerging on the Glasgow road.
Here we were met by our first setback. Traffic crawling slower than a game of quadriplegic badminton. This was not a good thing.
There seemed to have been an inordinate number of crashes… nothing serious, but enough to bend the rubber necks and impede our progress.
We proceeded like this for much of the route. I had begun to feel distinctly less chipper as the Malt Mobile continued its slow progress, and my stomach was becoming increasingly concerned about the twisty bits…
We were running out of time… the bag was still en route with a man called Duncan, and we had not done any shopping yet. We reluctantly abandoned the attempt to secure the bag and headed to the largest supermarket we could find.
We pulled in and Ben suggested I "look after the car" while they went shopping. The three returned with two trolleys packed full to bursting with fine produce.
It was not immediately clear how this was all going to fit in a similarly bursting Malt Mobile, but time was of the essence. So we shoved it anywhere we could find, covering the passengers with shopping and stuffing bottles, packets and parcels into every available nook and cranny.
Back on the road we were getting increasingly worried. For a start, some of us were finding it difficult to breathe under all the shopping bags, and the minutes were ticking away. The sat nav gave us an ETA of 5.45pm. This could mean we were too late to squeeze onto a doubtless packed ferry and would have to find somewhere to stay, and risk missing Bruichladdich in the morning.
This could not be countenanced, so Ben pushed the loud pedal and we found out what the Malt Mobile could do.
As it happens, not very much when stuck behind a tractor/sight seer/old person. Cue some 'exciting' overtaking manoeuvres, which made us think we should have added decals when we got to the festival.
My stomach found this distinctly less exciting. Traumatic yes, exciting no. It did not take kindly to the high G forces generated by powersliding a Landrover Discovery, and soon required a pit stop.
I was not so much putting fuel in however…
Sympathy was not forthcoming and we sped off again, sticking strictly to the speed limit at all times. Minutes were slowly shaved off the ETA and we made desperate phone calls to the Ferry Company.
One more pit stop later (apologies to the homeowner) we screamed into the ferry port to find an enormous line of cars… which had not even begun the loading procedure.
I proceeded to spill paprika and capers all over said ferry port, but fortunately we still had smoked paprika, because that's how we roll around here.
As luck would have it we pulled in just behind the chaps from Pol Roger, and proceeded to swap stories and enjoy a beer or two on the flat calm crossing to Islay.
As the evening sun beat down on the deck, we decided there were worse jobs we could be doing, and this was all really very civilised.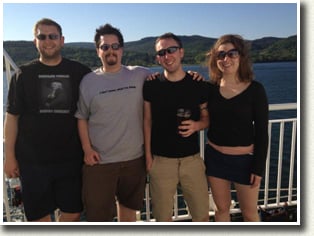 The crossing… with beer.
Even my suffering stomach had recovered sufficiently to ingest beer, and in no time at all we were pulling into Port Askaig.
We bid fair well to the Pol Roger chaps and set off to find our cottage, whose opulence had reached near mythical status to four travel-weary whisky fans. Ben had been regaling us with promises of hot tubs, splendid meals and soft, soft beds. But first we had to find it.
This proved surprisingly difficult on an Island with basically one main road, and the sat nav had basically given up by this point. So we resorted to asking random people where our cottage was. This was a good plan in principal, with one major flaw. The population of Islay doubles at this time of year, meaning that statistically, you are just as likely to ask someone whose grasp of Islay geography is just as poor as your own.
But eventually, we found it. And our dreams came true. It had a hot tub; Ben cooked us delicious steak sandwiches with the size and heft of a house brick.

This was very, very tasty.
Everything was right again, especially after an Old Fashioned and a drop of Hazelburn Sauternes Wood.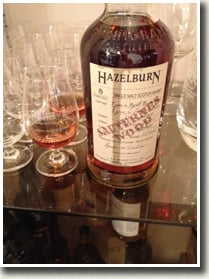 And so was this.
And so to bed. It was Bruichladdich in the morning, and we had an earlyish start… oh, and that picture we promised: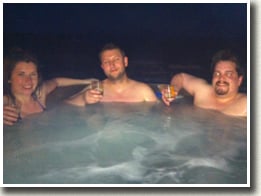 As I was writing a blog, Cat, Justin and Ben were hard at work…